Yes, we're well aware, the iPad 3 has been around for quite some time now, but after a week of massive Apple announcements, it's worth looking at their latest tablet.
For me, I don't honestly use a tablet a great deal. Sure, call me old-fashioned. Perhaps I'm still living in the '90s, perhaps it's because I do less browsing and more work on my device of choice – a laptop. Oh, and just to possibly upset you, I use an Android phone most of the day and love it.
From the minute I receive this, I really don't want to like it.
The iPad 3 is instantly heavier than it's previous iteration and thicker too. Inside there's 16GB of storage, Bluetooth 4.0, WiFi, a 10 hour battery life and an A5X dual-core CPU. The screen is a gorgeous 9.7″ TFT with IPS (In-plane switching) and a resolution of 2048×1536. This one here is a bit special too because it has a Vodafone SIM card in it – the 3G and WiFi model.
At the back is a 5 megapixel camera and there's a VGA camera up front for Facetime etc.
Now it's at this point that I make a couple of confessions. See, most tech websites will get a review product like this and use it in the confines of their office for a week and then return it. I, on the other hand, took it on holiday with me, kept it a lot longer than I should have and also let my son use it quite a bit.
First up, definitely get a robust cover if you're going to let your child or children play about with this. It is an expensive bit of kit, and we're now in a world where kids seem to have extremely expensive iPads and iPods in their bags. They can end up anywhere – on the floor, in the garden and even by the pool as this one did.
The pool?
Don't worry, I don't live in a luxury mansion with a private pool. The Vodafone microSIM (and their new data plans) I wasn't just restricted to the limits of WiFi, so in this case it was the hotel pool.
So why should you get an iPad 3? Well, the big difference between this and the iPad 2 is the screen. That "Retina" display certainly makes everything crisp and sharp. The faster dual-core A5X CPU has quad-core graphics and there's never and lag, jitter or delay in showing anything on screen.
One of my immediate likes, which many iPad users will probably take for granted, is that the settings for almost everything can be found in one screen. Email, Twitter, data, network info, GPS, WiFi and all the settings for all the apps you've installed are in one place.
But wait, I should probably take you for a tour around the device. It is, as usual, a beautiful thing. It's not just the design, it's how well everything has been put together and the quality of the finish. Looking a lot like the iPad 2 (and I mean A LOT) the rear of the device has rounded corners and curved edges which meet the black frontage. At the top of the unit we have a black section with secondary microphone and antennas.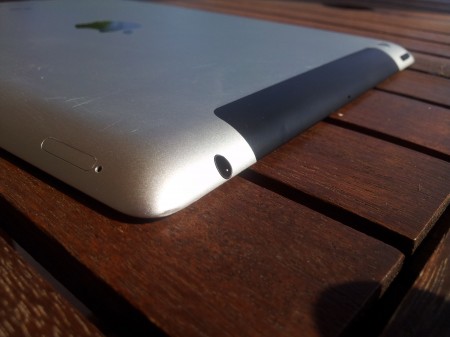 Either side of that there's the power on / off button on the far side of this picture and 3.5mm audio port and a small hole to poke to insert your microSIM.
On the right side, there's a mute switch and the volume control.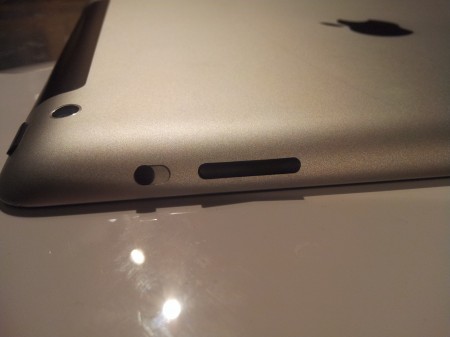 On the bottom, there's the charging port and an external speaker which, I must confess, really is both powerful and clear.

The rear panel is an aluminium smooth matte silver.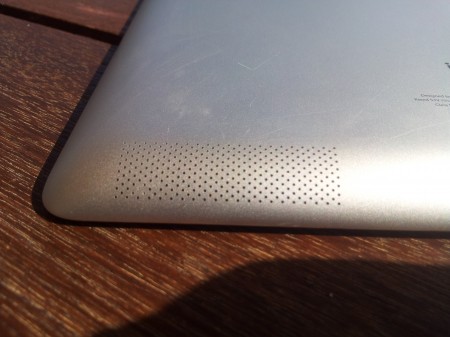 Up front, the polished black plastic bezel is hardly noticeable when the screen is on, but you can just notice the VGA camera and the single solitary button under the screen. It's a scratch-proof too.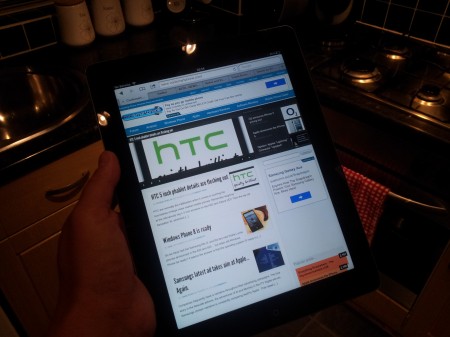 That screen really is good, and it's almost the Apple party trick when you see people picking up demo units in stores – they stare wide-eyed, almost transfixed by the clarity and vivid reproduction of pictures, websites and graphics.
Camera
I've seen people using iPads at concerts and events, which might seem weird at first. However, it's easy to see why they choose it, at least from a camera perspective. With a screen this big you need a fairly good camera anyway, and it really doesn't disappoint.
I used the rear camera to take the following shot and, with the screen being as good as it is, it feels like you're looking through glass.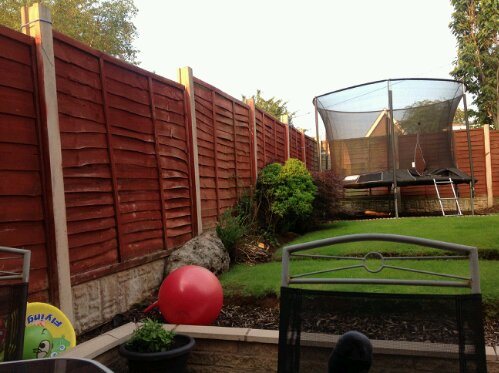 Inside
iOS 5.1 is buttery smooth and requires no introduction or manuals. It's simple to pick up and easy to use. If you can get past the few setup screens, which is perhaps the trickiest bit, then everything else is pretty simple. Kids can use it, and kids do use it, believe me.
Hop into iTunes and the sheer power and integration of their ecosystem becomes apparent. iTunes isn't just "Tunes". TV Shows, Films, Podcasts, Audiobooks and more – plus you can hook into "Ping" to get a look at what your favourite artists and friends are liking. It's like going to the pub and seeing what your friends are recommending.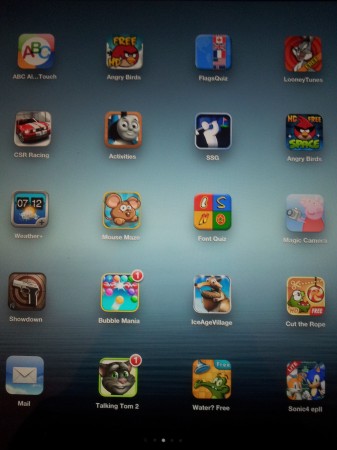 That bottom button kicks you out of whatever you're doing – simple and intuitive. Hit that and hop into the App Store to get access into a whole bucket full of apps. Heck, "bucket full" isn't really doing this justice. There's apps for everything and a huge selection of games. I hate to use the phrase, but there really is an app for that everything. App-purchasing is easy (sometimes all too easy) to do and they slot into your home screens.

Those home screens are simple enough to use – just move your finger left or right across the screen to pan, then press to select an app. You can move apps around simply by pressing and holding on an app. My son loaded up the iPad pretty quickly. There's currently 51 apps installed on it and I've reduced the 16GB capacity down to to 9GB. Still, with 51 apps taking up 7GB that's still plenty of room for music and yet more apps. 20 apps (or shortcuts should I say) can fit onto each screen.
20 apps per screen? Isn't that going to get messy? Well yes it is. You can group apps together by dropping one icon onto another – it'll then create a folder and you can name it to suit. Meanwhile, up top, the notifications bar keeps you up to date with everything happening in your emails, tweets, apps and games. You just swipe down from the top of the screen to see what's happening.
The iPad isn't just a casual sitting-in-front-of-the-TV tablet for browsing the web though. This stores your contacts, arranges your life through a calendar, adds reminders, notes, maps and messages. You've probably seen many business people carrying them and, although many would doubt it, it seems to have become a business-tool too. Contacts are arranged in a "book" with Google or Exchange sync'ing.

Summing up
What I've found, especially after using Android tablets, is how simple and straight forward the iPad is. My son, who's four, is fully aware of Android tablets – there's been a number of them in the house, but he always goes for the iPad.
After a week where the Apple and Android fans have been involved in battles over which OS or device is better, I have to admit – even as an Android fan and Android tablet user, the iPad is still the best tablet out there.
Using it is simple, straight forward and quick. Where Android can involve some on-screen buttons and a little bit of downloading to get to things, the iPad makes things simple. I mean really simple. Add to that the brand, and the fact that almost everyone seems to have an iPhone or an iPod and bingo, you "have" to be part of the gang. My cousin, who's 9, has an iPod. His mates Facetime him. His mom gets music easily, buying music quickly and easily through iTunes. It's all so flippin' easy, and the iPad looks just so nice.
At the end of the day, and I'm saying this without having reviewed the Nexus 7 just yet, the iPad is still going to shift millions of units, and I can totally see why. However, what I don't see is why someone would choose this over the iPad 2 – personally I'd go for that instead purely based on price, but the iPad 3 is a fast puppy with an amazing screen.
Finally I have to mention Vodafone. The SIM in this unit is from them and it meant that the iPad quickly became the "go anywhere" device that I picked up when I wanted to write stories like this on the go. In fact, the majority of this review was written on the iPad through the WordPress app and, whilst there's a great ratio of "paid for" apps than Android, the quality and unbroken experience is something to note.
Link – iPad (Vodafone)