With the launch of the new iPhone now only hours away and anticipation starting to build, the first iPhone 5 cases, covers and screen protectors are now starting to appear for sale.
One such screen protector is the SGP Glas.t Premium Screen Protector.
Made from a "high-tension tempered glass" it has "enhanced shock protection" and some ..err..  "oleophobic coating" which, although we don't totally understand how, stops fingerprints and is only 0.4mm thick.  It has an anti-shatter glass coating and is designed especially for the iPhone 5.
Full details below…
The SGP GLAS.t Series screen protector is made from a chemically reinforced glass that maintains perfect image clarity while protecting your phone's screen from scratches and external shock. Thanks to the anti-shatter film, excessive impacts may cause the glass to crack, but it will not shatter and so is safer to use than other glass products.

Oleophobic coating helps resist fingerprints

This screen protector features an oleophobic coating that resists oil contamination and fingerprints, making it easier to clean without the build up of grease that can lead to a rainbow sheen effect.

0.4mm thickness adds minimal bulk to your phone

Despite being the ultimate in screen protection for your iPhone 5, the SGP GLAS.t Series is only 0.4mm thick. This means it only adds an almost imperceptible amount of extra thickness to your phone, so you can be sure it is safe from harm while looking as good as new.

Easy installation with no risk of bubbles

As this is a premium glass screen protector and not a film, it does not bubble at all on application. In addition, the Fluorine coating allows for easy removal should the GLAS.t be damaged or if you just want to swap it out for another colour. Also included is an expoxy coated button cover in the same colour as your GLAS.t Series screen protector.

Made for iPhone 5

Designed specifically for the iPhone 5, the SGP GLAS.t Series screen protector offers a perfect fit for your device. It features cut-outs for the camera, sensors, speaker and button, with transparent sections for the capacitive buttons so you can still see when they are lit.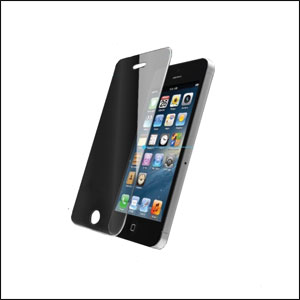 The SGP iPhone 5 Glas.t Premium Screen Protector is available now from
Mobile Fun
 priced at £33.95