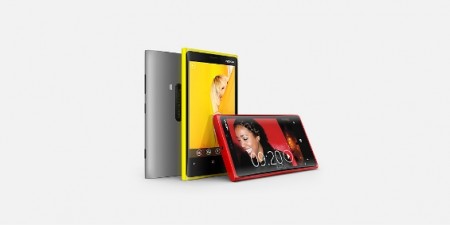 Nokia have just announced the new Lumia 920 and the Lumia 820 to the world at an event in New York
The Lumia 920 features include a PureView 8 megapixel camera , Windows Phone 8, a 4.5 inch screen running PureMotion HD+, a 2000mAh battery, Snapdragon S4 processor , built in wireless charging via a charging pillow. It will be available in 3 colours, yellow, red and grey.  It has ceramic side keys and a screen resolution that is higher than 720p.
[yframe url='http://www.youtube.com/watch?v=V8_Z7_kJ3_g&feature=share&list=PLgKNvl454BxeDMU2rPf3Y7rjegrzYwd7U']
The Lumia 820 also has an 8 megapixel camera with a Carl Zeiss lens, a 4.3″ screen with a resolution of 800 x 480 and is powered by a Snapdragon S4 processor.  There is built in NFC and it has a 1650Mah battery.
[yframe url='http://www.youtube.com/watch?v=fOpLINXx_GE&feature=plcp']
There will be various charging accessories available including the pillow, a JBL designed retro boom box styled NFC equipped speaker with inbuilt wireless charger as well as a wireless night stand.
There is no fixed launch date as yet with availability only being quoted as "later this year."