September seems to be the month to hold a press event. We have Nokia, Motorola, Apple, the whole IFA thing and now HTC. Last night various websites received invites to a press event in New York on September the 19th. As most of the recent rumours surrounding HTC have been Windows Phone based and that Windows Phone 8 is released in October, it is a fairly safe bet to say that this will be announcing the new Windows Phone devices (probably).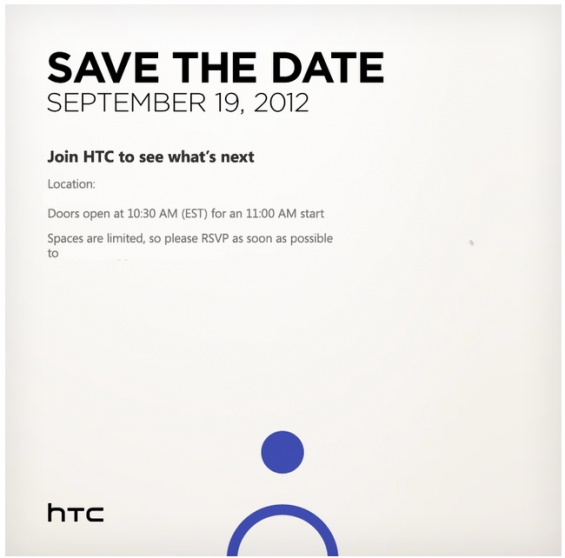 The invite gives nothing away really, some people have decided the symbol at the bottom is a bit like a figure 8 as in Windows Phone 8. A few weeks ago there was some info from WPDang (details here) where apparently HTC were going to announce three new devices running WP8 in the third week of September. Back then they were called Rio, Accord and Zenith. The specs leaked seemed to mirror the existing HTC One range i.e similar to the One V, One S and the One X.
This week further information has come to light suggesting that the new devices will carry a similar unifying brand and be called the HTC 8S and HTC 8X. No mention of the smallest Rio though.
These are exciting times for Windows Phone fans, in a few weeks there will be quite a few devices to choose from for your new handset. At the moment I am torn between the brightly coloured yellow Lumia 920 and the larger HTC WP8 device (Zenith / 8X).
Source – Pocket Lint
Image Credit – The Verge