Amazon today announced the official release of the Amazon Appstore in the UK, France, Germany, France, Italy and Spain.
Although European users have been able to unofficially download the app since it was released in the US, the timing of this launch could have something to do with the Amazon press conference next week – an EU launch of the Kindle Fire (or Kindle Fire 2) perhaps? What do you think? Let us know in the comments.
Here are a few shots of the app in action. Including the free app of the day.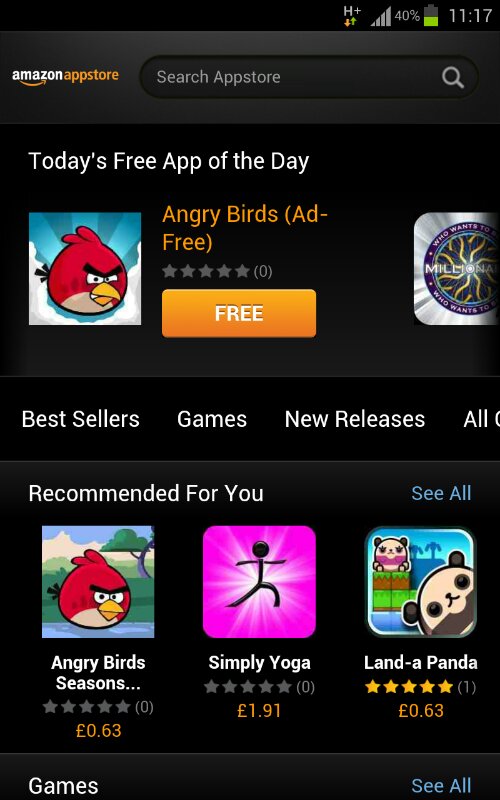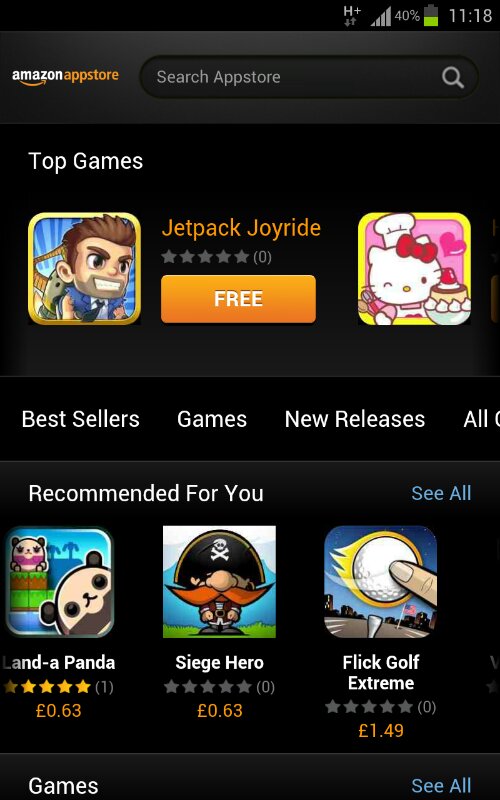 If you want to install it, head here to Amazon and follow the instructions.
Via: BussinessWire
Press Release:
Amazon Appstore Launches in Europe; Now Available in the U.K., Germany, France, Italy and Spain
Amazon Appstore rollout across the EU is the latest in a series of additions that make Amazon the most complete end-to-end platform for developers looking to build, market and monetize their apps and games
SEATTLE & LUXEMBOURG–(BUSINESS WIRE)–Aug. 30, 2012– (NASDAQ: AMZN) –Amazon.com, Inc. today announced the launch of its Amazon Appstore in the U.K.,Germany, France, Italy and Spain, giving European customers access to Amazon's broad selection of quality Android apps with the convenience of shopping on Amazonfrom their Android phones and tablets. Customers can get the Amazon Appstore for their Android phones and tablets by visiting www.amazon.com/getappstore. Amazon's Appstore offers a great selection of games and apps, including local favorites like "Jamie Oliver's 20 Minute Meals" and "Skyscanner," established bestsellers like "Fruit Ninja" and "Cut the Rope," and new apps from top-tier brands like Rovio and Glu Mobile. In addition to localized content and a localized mobile store for each specific country, European customers will have access to popular Amazon Appstore features like the "Free App of the Day," which offers a paid app for free every day. Today's Free App of the Day is the ad-free version of "Angry Birds." All Free Apps of the Day are specially-selected for the Free App of the Day program. Apps and games purchased from Amazon can be used across a customer's Android devices, enabling them to buy an app or game once and enjoy it everywhere.The Amazon Appstore also includes popular Amazon features like personalized recommendations, Customer Reviews and 1-Click payments. In order to ensure that customers have the best possible experience with the apps they purchase, apps areAmazon-tested and backed by Amazon's world-class customer support."Customers in the U.S. have purchased millions of apps, games, in-app items and subscriptions since the store launched last year, and we've received great feedback about discovery features like Free App of the Day. We evaluate and test games and apps before making them available in the Appstore so we ensure customers have a great experience with the games and apps they purchase," said Jim Adkins, Vice President of Amazon Appstore. "Amazon has spent years developing innovative features that help customers find and discover the products that are right for them and have applied that know-how to the Amazon Appstore. We're delighted to extend that experience to our European customers."Amazon continues to roll out services and features that make it the most complete end-to-end solution for developers wanting to build, market and monetize their apps and games. Developers can build their apps and games using Amazon Web Service's industry-leading infrastructure platform. For important audience engagement features like Leaderboards, Achievements and Syncing game state between devices, developers can use Amazon's new GameCircle services. To gain exposure to tens of millions of customers, developers can list their apps in the Amazon Appstore and take advantage of awareness-building programs like Free App of the Day. And, to monetize their apps and games, developers can use Amazon's industry-leading e-commerce and payment capabilities like In-App Purchasing and Subscriptions."Amazon's Free App of the Day program is really unique," said Peter Vesterbacka, Rovio Mighty Eagle and CMO. "Over the past year we have offered Amazon customers some of our best-selling premium games like "Angry Birds Rio" and "Angry Birds Seasons" for free, and the response has been truly overwhelming. We are pleased to offer Amazon customers another one of our most popular premium titles, "Angry Birds," for free today.""Amazon customers are very important to us, and "Cut the Rope" and "Cut the Rope: Experiments" have been in the top of the charts on Amazon Appstore in the U.S. We are focused on delivering great gaming experiences to our users all over the world, and are looking forward to reaching more "Cut the Rope" fans as Amazon launches its store in Europe," said Misha Lyalin, CEO, ZeptoLab."At Glu we've always been an early adopter of Amazon services for both building and selling our mobile games. For example, "Frontline Commando" was one of the first games on the Amazon Appstore to offer IAP and subscriptions. This game also leverages Amazon's S3 and Sync services," said Niccolo de Masi, Chief Executive Officer of Glu Mobile. "Amazon offers us exposure to its large customer base and we will continue to use the Amazon platform in our efforts to grow our business.""We are big fans of Amazon Appstore and have seen tremendous growth in our business since we started releasing our apps on the Amazon platform," said Suli Ali, CEO of TinyCo. "We have been extremely successful with Amazon's In-App Purchasing. It was easy to implement, and we have generated significantly more revenue per customer than with any other platform. Since we have had such success withAmazon, when GameCircle was introduced, it was a no-brainer, we added it to our apps right away."In Germany, France and Italy, customers will find "App-Shop" available today; inSpain, customers will find "Tienda Apps;" and U.K. customers will find the "Amazon Appstore for Android."About Amazon.comAmazon.com, Inc. (NASDAQ: AMZN), a Fortune 500 company based in Seattle, opened on the World Wide Web in July 1995 and today offers Earth's Biggest Selection.Amazon.com, Inc. seeks to be Earth's most customer-centric company, where customers can find and discover anything they might want to buy online, and endeavors to offer its customers the lowest possible prices. Amazon.com and other sellers offer millions of unique new, refurbished and used items in categories such as Books; Movies, Music & Games; Digital Downloads; Electronics & Computers; Home & Garden; Toys, Kids & Baby; Grocery; Apparel, Shoes & Jewelry; Health & Beauty; Sports & Outdoors; and Tools, Auto & Industrial. Amazon Web Services provides Amazon's developer customers with access to in-the-cloud infrastructure services based on Amazon's own back-end technology platform, which developers can use to enable virtually any type of business. The new latest generation Kindle is the lightest, most compact Kindle ever and features the same 6-inch, most advanced electronic ink display that reads like real paper even in bright sunlight. Kindle Touch is a new addition to the Kindle family with an easy-to-use touch screen that makes it easier than ever to turn pages, search, shop, and take notes – still with all the benefits of the most advanced electronic ink display. Kindle Touch 3G is the top of the line e-reader and offers the same new design and features of Kindle Touch, with the unparalleled added convenience of free 3G. Kindle Fire is the Kindle for movies, TV shows, music, books, magazines, apps, games and web browsing with all the content, free storage in the Amazon Cloud, Whispersync, Amazon Silk (Amazon's new revolutionary cloud-accelerated web browser), vibrant color touch screen, and powerful dual-core processor.Amazon and its affiliates operate websites, including www.amazon.com,www.amazon.co.uk, www.amazon.de, www.amazon.co.jp, www.amazon.fr,www.amazon.ca, www.amazon.cn, www.amazon.it, and www.amazon.es. As used herein, "Amazon.com," "we," "our" and similar terms include Amazon.com, Inc., and its subsidiaries, unless the context indicates otherwise.