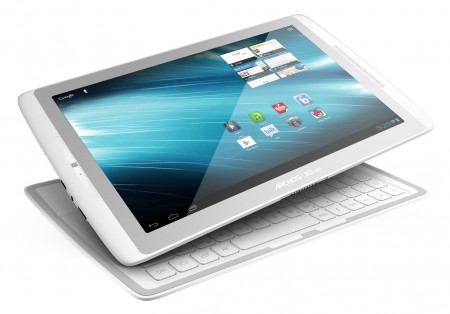 You've probably heard of Archos. In a world of unknown cheap tablet manufacturers they have established a brand name built around budget Android devices – most notably the G9 Series. They have decided now is the time to mix it with the big boys by releasing the Gen10 XS range of tablets.
First off is the 10.1 inch 101 XS. Retailing at £299, it's powered by a Cortex A9 1.5GHz CPU with 1GB of RAM. On board storage is 16GB of of the box, but it also has a micro SD card slot (yay!) that they say accepts up to 128 lovely extra gigabytes! The screen is a perfectly respectable 1280 x 800, but if you want to see things larger it also has a standard full HD mini-HDMI output.
The 101 XS is shipped with Android Ice Cream Sandwich 4.0.3, however, Archos have said in their press release that they will be upgrading it to Android 4.1 Jelly Bean in September, making it one of the first non-Nexus tablets to receive the latest version of the OS.
One of the most notable features of the 101 XS is the "Coverboard" – a QWERTY keyboard attachment that doubles as a removable protective cover. The magnetic dock has a fold out arm that lets the whole unit stand and be used in a similar way to a netbook. This makes it an interesting and wallet friendly alternative to the Asus Transformer series.
There are other accessories available too, including a docking station with extra connectivity options and a 32 Watt speaker dock (see the image gallery below).
The 101 XS is to be joined in the near future by the 8 inch 80 XS and 9.7 inch (you guessed it) 97 XS, both of which echo the same design and come with their own Coverboards.
All in all it looks like Archos have put a lot of thought and development into the Gen10 XS range, and hopefully it will see them competeing regularly with the likes of Samsung, Sony and Asus.
The new Archos 101 XS tablet video overview can be found here
[yframe url='http://www.youtube.com/watch?v=w5P00tqx9TA']
More details can be found on the Archos web site and Facebook page.