Today it is the turn of Stephen Murray to share with us his phone history.
Panasonic GD30 [-1999]

This, as far as I can remember, was my first phone. Battery life was pretty good, and it did everything I needed it to. How times have changed!
Nokia 3210 [-2000]

Ahhh, the nokia 3210, what a phone! You could change the cover, even add your own ringtones. I remember spending lots of spare time trawling the internet (on dial up), trying to find ringtones that needed to be entered by using a specific key press. Mine didn`t have the vibrate option, but I bought a motor of ebay, and installed it. It then needed to be activated by using a serial port on my PC and a program. This phone also got me into "unlocking" phones for friends, again by serial cables plugged in to a PC.
Nokia 7110  [-2001]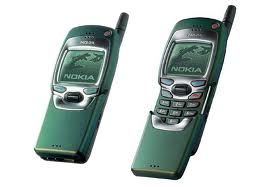 Like CSP writer, Scott Spence, I too had the 7110. I also thought it was much better than the 'Matrix' phone. The keyguard slid down by pressing a button on the back of the phone. Yes, I did pretend to be 'Neo'. I must have kept this phone for a while, as the next one was three years later…
Orange SPV C500 [-2004]

My first 'Smartphone', and the very reason I started reading coolsmartphone.com. Originally it came with Windows Mobile 2003, which I later upgraded to Windows Mobile 5, and then 6. Not only did it come with a memory card slot and camera..but you could sync it to your PC! This is still my backup phone. The battery lasts forever. I havent switched it on for over a year..yet I have just switched it on, and it's ready to go and showing nearly full battery. Awesome!
T-Mobile MDA Vario [-2006]

My second HTC device, and my first touch screen! Featuring a slide out keyboard and stylus. I even had TomTom installed on it. In getting this device, I introduced a number of colleagues to smartphones, and coolsmartphone.com.
 HTC G1 [-2008]

So, next was the T-mobile G1, the first Android device. I had a white one, though black was also available. I loved this phone, with it's slide up screen which moved in an arc motion to reveal it's keyboard. This is the first phone that turned me into a 'flashaholic', I would rarely stay on the same ROM for more than a week. The amount of customised ROM's was amazing, I knew then I was destined to be an Android Fanboy. Even now, four years on the G1 has a port of Jelly Bean…sure it's a bit clunky, but it does only have a single core 528mhz processor. I wish I had kept this one 🙁
HTC Hero [-2009]

Another phone with a 'chin'. I chose the Hero for two reasons, firstly, it was Android, secondly, it was HTC. That combination for me had all the makings of the perfect phone. The Hero was running HTC's Sense skin, which I instantly loved, although that didn't stop me trying out CM ports, and many other different ROM's. I always returned to Sense. I still have this phone…after a brief loan to my Father in Law, he gave it back, as he didn't use any of the smartphone features.
Samsung Galaxy S2 [-2011 to date]

I purchased the S2 'SIM Free', after moving to the GiffGaff network. I knew I would be keeping the phone for a couple of years, so I wanted to get the best phone I could at the time. The S2 certainly fitted the requirements. Since I bought it, I have run all manner of ROM's, ranging from the original gingerbread right up to CM10 Jelly Bean. Currently running a fairly standard TouchWiz ICS 4.0.4 ROM, with an S3 theme (including ripple lock screen!).
So what next? I am happy with the S2 at the moment, for me, the S3 wasn't enough of a big jump to change up to. I think my next phone will be a nexus device, purely because of the openness of the devices, and they get the newest version of Android very quickly after it is announced.
So i'll wait and see what the big 'G' comes up with next.