Ofcom's decision to make 4G available this year is great news for the UK. Consumers will soon be able to benefit from the much greater mobile speeds that 4G will deliver. 4G will drive investment, employment and innovation and we look forward to making it available later this year, delivering superfast mobile broadband to the UK.
O2 –
We are hugely disappointed with today's announcement, which will mean the majority of consumers will be excluded from the first wave of digital services. This decision undermines the competitive environment for 4G in the UK.
Vodafone –
We are frankly shocked that Ofcom has reached this decision. The regulator has shown a careless disregard for the best interests of consumers, businesses and the wider economy through its refusal to properly regard the competitive distortion created by allowing one operator to run services before the ground has been laid for a fully competitive 4G market.
Naturally the competing telecoms companies are not going to be very happy with this decision possibly with the exception of Three who have now purchased a chunk of 1800MHz spectrum thus giving them a natural outlet for 4G without going into the expensive auction process that Ofcom will be undertaking next year.
The general reaction on twitter seems to be focussing on how unfair it is that Everything Everywhere are being given a headstart in the 4G market and wondering how Ofcom have come to their decision.
What does it mean for me?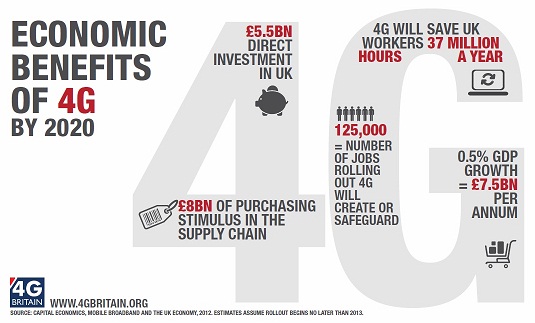 4G promises greater speeds on the mobile network as well as greater connectivity in rural areas, even bringing connectivity to areas where there currently is little or none.
You will need a new 4G / LTE compatible handset, allegedly the first available in the UK to be compatible with the 4G network will be the new iPhone although this is yet to be confirmed.  The new iPhone launches a day after Everything Everywhere's license comes into force.
You will also need a new data plan.  Olaf Swantee said on Sky News today that Everything Everywhere will be launching a new brand to run in conjunction with Orange and T-Mobile and my bet is that new customers wanting 4G will automatically go onto the new brand with existing customers possibly being given the option to migrate for a fee.
Mr Swantee also confirmed that Wales and Cornwall will have 4G by the end of quarter 1 2013 thus bringing the high speed network to parts of the UK that are sorely lacking in decent high speed connectivity.
Will you be investing in a new handset?  Does the thought of 4G get you foaming at the mouth?  Let us know over on our forums.