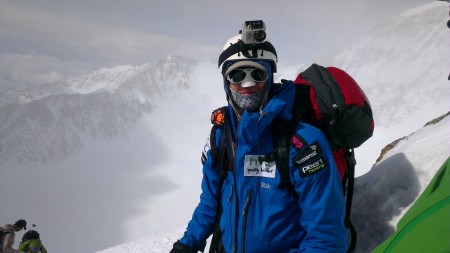 Daniel Hughes will be heading up Mount Everest to try and place a red nose on the summit next May. He's asking a million people to donate £1 each to raise £1 million for Comic Relief. HTC are the lead sponsor, and will be provideding equipment to help him share his experience.
He's already training for it and he'll be competing in the UK's toughest cycling race – the Welsh Etape – next month.
Daniel will be capturing the whole thing on a HTC One X and he's already tried it out during training and on a climb to Denali. There's videos explaining a bit more below or you can head over to Everest Million to get more information.
If you'd like to get a HTC One X, don't forget to have a look at stores like www.phones4u.co.uk for the latest deals.
HTC SUPPORTS EXPLORER IN HIS BID TO PUT A RED NOSE ON MOUNT EVEREST

3rd AUGUST 2012: HTC, a global designer of smartphones, today announces its support of the Everest Million campaign, led by British pilot-turned-explorer, Daniel Hughes.

Daniel, 32, aims to raise £1million for Comic Relief by conquering Mount Everest and placing the world's first red nose on the summit He is asking one million people to donate £1 each to raise an impressive £1million for Comic Relief.

As lead sponsor, HTC will be providing Daniel with the equipment he needs to document this once-in-a-lifetime experience and share it with his supporters. Speaking of the challenge ahead, he said; "This will be the toughest challenge of my life but the really hard part will be reaching my fundraising goal. That's why it's great to have HTC behind me as I can use the amazing camera on their devices to share my experiences with my supporters along the way."

Daniel will be attempting to reach the summit of Mount Everest in May 2013. His next training challenge will be to complete the Welsh Etape – the UK's toughest cycling race – in September.

James Atkins, HTC's Head of Marketing in the UK & Ireland, said; "Comic Relief is a superb cause and we're very proud to be supporting Daniel with such an impressive challenge. We're really enjoying following his journey and are looking forward to see him put our devices through their paces."

For more information about the Everest Million campaign head to www.everestmillion.com