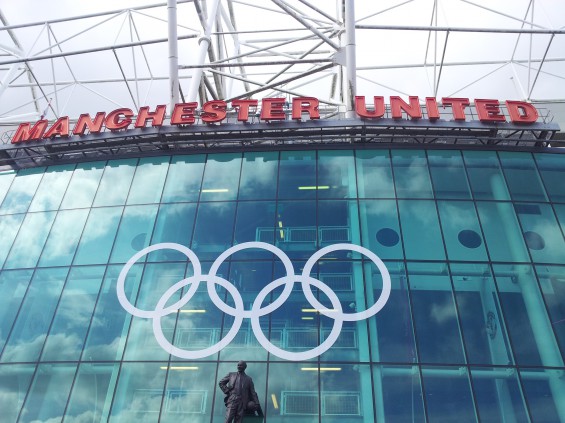 The third day of our Olympics coverage and I'm on a train to Manchester. This is the big test for me. A 10 minute Tube journey followed by a 2 hour train ride up to Manchester. I'm heading to Old Trafford and I'm not doing the usual "tourist snaps". This is full-on video and photo capture followed by instant uploads to Flickr, Twitter, Facebook and Coolsmartphone.
After unplugging at 6.30, I managed to top-up the charge on the train and arrived in Manchester with the battery still sitting above 95%. Great, I thought, this will be easy.
I squeezed onto the Metro with hundreds of other sweaty visitors and did filming and photos all the way into Old Trafford. It was a fantastic scene which I've hopefully captured below. It took a good hour or so to get through the very strict security, so I busied myself snapping even more photos. The atmosphere outside was amazing. The sun was out and Japanese and Egyptian supporters were singing and laughing in the sun.
Inside, after passing through security, the place was almost at capacity and I took endless photos. However, after coming out of the match (Japan won 3-0 by the way) the battery was at 5%. That, I have to say, is amazing and depressing in equal measures. It's amazing that I managed to drop a battery from 95% to 5% in just 4 hours, but it also makes you realise that battery life still isn't as good as we'd all like it to be.
So, I'm writing this from the train, hooked up to a power socket from Virgin. The Galaxy Note has impressed me once again. I've had quite a few comments about how vivid and bright the screen is. It's a device that helps you work, helps you play and helps you do everything in between. Any worries about screen size have been put to bed for me. People are walking about the Olympic Park taking photos with iPads, so it's really not big.
I'm heading back to London right now, stay tuned for more.