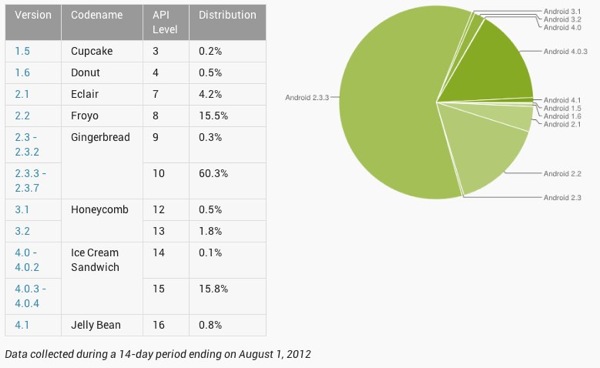 As you can see from the data above, Android 4.0 aka Ice Cream Sandwich is gaining pace in its install base according to Google's report of how the different Android versions are divided. It is now on a total of 15.9% of devices, making it the 2nd most installed version of Android, finally overtaking Froyo. Gingerbread still leads the way with a massive 60.6% however.
Jelly Bean has also made its debut on the figures. It's started off at 0.8% and is currently only available on the Galaxy Nexus, Nexus 7 and some versions of the Motorola Xoom.  
Whilst these figures aren't anywhere near the adoption rate of other platforms like Windows Phone or iOS it is good to see an increase in the relevant versions of Android as for the first 6 months of 4.0's availability Gingerbread was still increasing in size.