We love our stats here at CoolSmartPhone, and one big milestone has just been reached by UK network Three. In this last year average internet use by customers has more than doubled from 450MB per month last year to a whopping 1.1GB per month this year.
Customers with new iPhones or the new faster Android phones are using around 1.5GB a month
As pointed out in the press release below, 1.1GB in a month is more than most networks offer as a package allowance. Competing networks usually offer a maximum of 1GB in a standard package unless you start paying for an extra bundles.
This really shows how people really want to use their phones. Data shouldn't be a worry, and the new advertising campaign from Three promotes this…
[yframe url='http://www.youtube.com/watch?v=gEJ-nsFMJuA']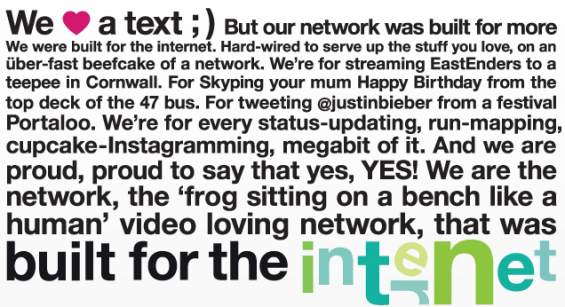 Full press release below…
Three's smartphone customers double their data use in less than a year

Customers on Three now enjoy 1.1 GB of data each month

In less than a year Three's four million contract mobile phone customers have more than doubled their monthly data use.  This dramatic shift in consumer behaviour has seen the average amount of data used by contract customers each month soar to 1.1 gigabytes (GB).   Average use last summer was just 450 megabytes (MB).

Three's customers using iPhones and premium Android smartphones are already using almost 1.5GB per month.  This is significantly more than the allowances of 1GB or less sold to 66% of the UK's smartphone users on competing networks*.

Dave Dyson, chief executive officer, Three said: "With 95% of our smartphone customers using data on a daily basis, everyone is relying more than ever on their handset to do all the stuff they used to do on the internet at home or work.  And there is no sign of this slowing down.

"Give consumers a combination of the right device, the right price plan and a mobile network built for the internet and you see a rapid behavioural shift.  We are seeing more and more people using more and more data throughout the day.

"Price plans that remove the fear of going over a data limit enable demand to grow as consumers are free to discover just how much they can do on the move. Even I don't understand how much data I use on a daily basis so it's no surprise that having an all you can eat worry-free data package is proving to be so popular with our customers."

Three offers all you can eat data on all of its tariffs with prices on Pay As You Go and Pay Monthly starting from as little as £13 per month.

Graham Baxter, chief operating officer at Three, who is responsible for Three's network said:  "Since 2008 we have invested over £1 billion in almost doubling the size of our network and boosting its capacity and quality in order to handle this data traffic explosion.  Today we have an award-winning network and it's the only network in the UK that's built specifically for the mobile internet.  We cover 98% of the UK's population and it's great to see that our customers are doing so much more of the things they enjoy on their smartphones."

* Percentage of customers who were aware of the volume of data included in their smartphone package.  From YouGov SMIX December 2011 report as referenced in the Ofcom 2012 market Report.
Link: Three Blog