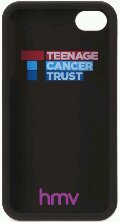 Got an iPhone? Want to get a cover for it and protect your purchase? Sure, there's stacks to choose from, but we think this is the one to get.
HMV have teamed up with the Teenage Cancer Trust to offer these branded iPhone 4/4S covers to raise both funds and awareness  with the aim of raising funds and awareness. It's just £7.99 and is available in stores now. Made by Griffin Technology, this soft touch case is also available online at hmv.com.
£1.70 from each sale will go straight to Teenage Cancer Trust and, if they sell them all, it'll raise over £40,000. Buy one and you can proudly show others your support for the Trust when making a call.
A simple and effective wait to help others and join the fight against cancer.
Link – hmv.com
HMV's soft touch for Teenage Cancer Trust

HMV to stock branded iPhone cover to raise funds & awareness for charity partner

London, July 2012 – Entertainment & technology retailer HMV is to stock a limited edition Teenage Cancer Trust-branded iPhone 4/4S cover with the aim of raising funds and awareness for its nominated charity partner.

The soft touch case, which is manufactured by HMV's technology accessories supplier, Griffin Technology, will be sold in HMV's 220 UK stores nationwide and online at hmv.com.

The product will officially go on sale from this Friday 20th July and will retail for the bargain price of just £7.99 – around half the cost of a standard iPhone cover of that quality and therefore excellent value.

£1.70 from each sale, potentially over £40,000 in total if all the cases sell through, will go to Teenage Cancer Trust to help fund their units that are located closest to HMV stores. Such an amount, if achieved, would help push the overall total raised by HMV for the charity over the past 18 months towards the £200,000 mark.

Siobhan Dunn, Director of Fundraising at Teenage Cancer Trust, said: "These iPhone covers are a great way of raising vital funds for young people with cancer. Teenage Cancer Trust is the only UK charity dedicated to improving the quality of life and chances of survival of the six teenagers and young adults diagnosed every day. So if you have an iPhone 4/4S, head to HMV and grab one of these cool covers to help more young people fight cancer."

HMV's Technology Buyer, Dean Millward, who developed the product with tech partner Griffin Technologies, added: "The huge growth in the smartphone market has been matched by similar demand for the protective soft touch cases that users often put on them.  Increasingly these are also taking on a strong fashion and design element, and our stores now carry over twenty different styles for the iPhone 4/4S alone. At such a great price I really hope this limited edition version for Teenage Cancer Trust sells out quickly and also helps to raise awareness for the wonderful work the organisation does."