Over at Expansys they are having a bit of a sale on certain Motorla products. Over the last few weeks the prices of the Motoluxe, the Razr and the Xoom media editions have been slowly dropping. Mainly due to a slow upgrade schedule from Motorola, along with new devices like the Nexus 7 coming along and undercutting most other tablets.
Well Expansys now have dropped the prices even further, you can pick up either a Motoluxe for £149.99, a White Razr for £249.99, an 8" Xoom media edition for £199.99 or a 10" Xoom media edition for £279.99.
To get these prices you need to use the codes that appear on the Expansys website at the checkout. Quite a bargain compared to the previous prices of each. The Razr is probably the most intriguing out of the bunch as it should be getting upgraded to Ice Cream Sandwich soon.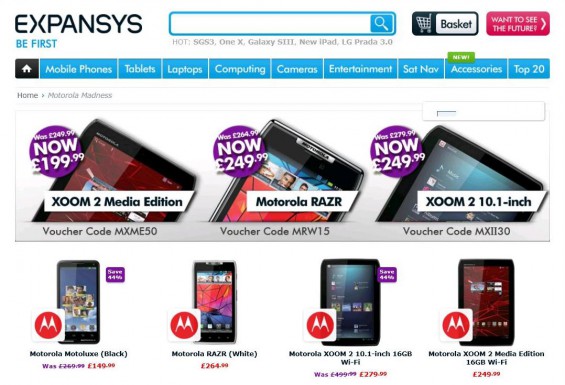 Source – Expanys
Via – Eurodroid