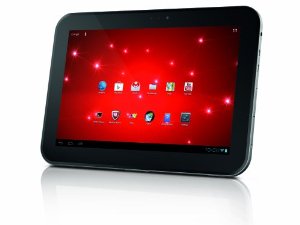 This new Toshiba tablet is now appearing in stores and Amazon are off-loading the 16GB version for £326.33. It come equipped with an NVIDIA Tegra 3 quad-core CPU, 10.1″ 1280×800 pixel screen, GPS, WiFi, 5 megapixel rear cam and 2 megapixel front-facing shooter. Other specs include a HDMI TV-out connector, Bluetooth 3.0, 16GB or 32GB of on-board storage (depending on the model you get) and a microSD card slot for up to another 64GB.
From what we're hearing though, this is another recent device without a light sensor (we spotted this omission on the LG Optimus L7 too) so the screen brightness will have to be adjusted manually.
Still, Martin Clinton has just received his and he seems more than happy…
I got my Toshiba AT300 a few days ago. It's a Tegra 3 device, there aren't THAT may out there. Also the older AT200 version has just been upgraded to ICS.
Let us know if you have one and what you think!