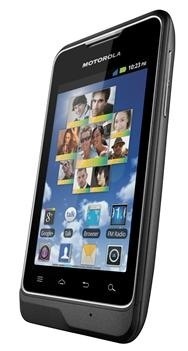 Motorola announced today a new budget Android device coming in the next few weeks, they say that the device will be available by the end of July on T-Mobile, here in the UK at a very respectful £99.99.
Are you looking for your first Android device and have a budget or just a budget device? The MOTOSMART has a 3.5″ touch display which is more than enough for easy browsing and checking those social network streams. A 3 MegaPixel camera for those quick snaps and it comes equipped with GPS and WiFi to let you know where you are and keep you connected.
See the press release below. We will be sure to follow this up once we get our hands on one.
Ditch the complications. MOTOSMART™ is the latest Android™-powered smartphone for the UK from Motorola Mobility. It, is slick, thin, and gives you one-touch access to your top contacts, favorite apps, music and more. MOTOSMART will be available in the UK from T-Mobile.

Organisation is the key to a stress-free life. And with MOTOSMART, you can streamline and simplify your day. For instance, the phone comes with the latest version of MotoSwitch – software that learns which songs you love, who you talk to most and which apps you use throughout your day. All of this information is then saved right on your home screen. So you won't waste time searching through long lists of contacts, music and apps ever again.

For those who are always on the go, connect to your email and the Internet with built-in Wi-Fi. Or access maps and step-by-step navigation as you scoot around town using the phone's GPS.

Worried about getting stuck in a rainstorm? With Motorola MOTOSMART, you can stay ahead of the weather by checking out vivid forecasts directly on the phone's 3.5-inch display. You'll almost feel thunder tremble from your phone.

Leave your camera at home and take photos of your friends, family or gorgeous sunsets with the Motorola MOTOSMART's 3-megapixel camera. Then, in just a few easy steps, you can post photos of your adventures to your favorite social media sites. In addition, the music app allows you to discover, share, and sync music to your PC seamlessly1.

And because MOTOSMART is an Android-powered smartphone, you can access over 500,000 apps on Google Play™ to help streamline your day (like calendars or budgeting tools) or apps that entertain (like books, games and even the latest movies).

"Simply put, MOTOSMART makes life easier," said Victoria McManus, marketing director, UK & Nordics, Motorola Mobility. "You don't have to worry about complicated settings and hard-to-follow instructions. Just turn this smartphone on and get instant access to the people and things in your life that matter most."

Availability and pricing

MOTOSMART will be available on T-Mobile from the end of July, free on a £7 per month, 24 month plan, and for £99.99 on pay as you go.

To learn more about MOTOSMART check out this video