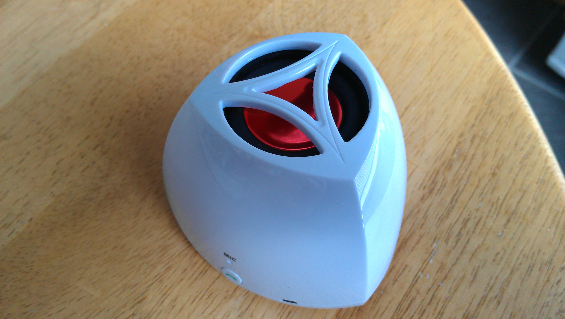 Whilst many smartphones now come with in-ear headphones and on-board technology to make your tunes sound better, there's still a certain amount of disappointment when you use the external speaker on your phone for playing music. Sound quality is also a bit pants when using the external speaker for phone calls.
We've reviewed a number of speakers over the years, but this one connects to your phone via Bluetooth. You can play any audio through it – be it your internet radio, MP3's or YouTube videos. You can also use it as a hands-free device for making and receiving calls. Pop in in the middle of your table, executive desk or coffee table and calls will be loud and clear.
It looks pretty distinctive and there's a white and black version available. The boys at Mobile Fun have it up for £29.95 but as I type there's a sale on and it's down to £19.95. Get it out of the box and charge it with the miniUSB cable provided. Sure, it's not the same microUSB cable you're probably using for your smartphone but the other USB "end" will fit into your charger / PC / laptop and charge up the device pretty quickly. It takes about 2 hours to charge up and then your good for around 12 hours talk-time and three hours play-time.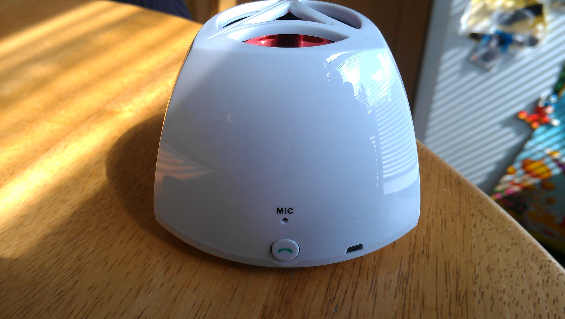 Getting setup is easy enough, you turn on the device, then press and hold the multi-function "call" button for 6 seconds to start the Bluetooth pairing process. It appeared on my phone as the "SW50" and then set audio to play through the Bluetooth when paired. You have to set your phone to be "discoverable" too, just to aid in the process, but it's painless enough.
When a call comes in, you'll hear the ringtone come out of the speaker and you can then simply tap the "call" button to answer and instantly go hands-free. Drop the call again by tapping it once more. Simple as. The microphone is just above it but, in practice, I didn't really need to worry about where it was as it picked up my voice pretty well. There's also a small LED notification light to the right which lets you know what's happening – red and blue together means that it's ready for pairing.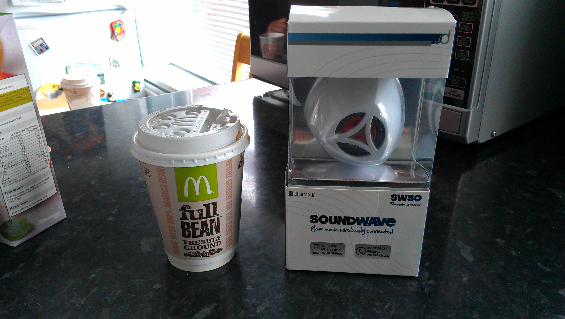 Tapping that multi-function button will activate the voice-control on your phone or jump into starting a call, depending on your model. I found that it went into my voice-control system.
OK, I could waffle on about the on/off switch or the miniUSB charging point but hey, you want to know about the sound quality. To be honest I've reviewed those speakers than stand on your table and resonate to make a "bigger sound" but here it's a nice red speaker. A normal, old-school speaker. There's vents in the bottom too and, I don't know – perhaps it's the shape, perhaps it's the airflow, but boy – this sounds good. Volume is controlled from your phone and, even with the "standard" sound and no equalizer tweaks … it sounds, really, really good.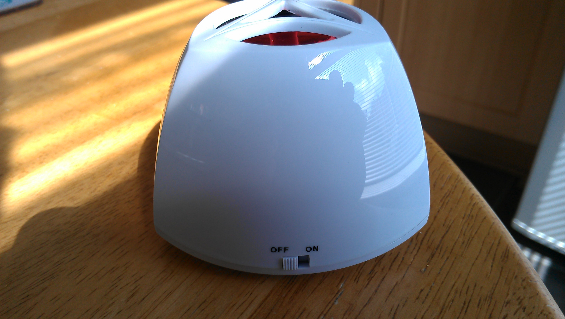 Sure, I know what you're thinking. One single speaker. It doesn't look big, it doesn't scream "huge sound system", but this really does blast out the sound. Honestly, this really comes highly recommended from us at Coolsmartphone. We've already danced around the kitchen with this small but oh-so-powerful speaker playing out the tunes, and I'd hope you guys do the same. Highly recommended, fantastically good and cheaper than those Jambone Jambox speakers by a long chalk.
Seriously. Get one of these. Get one.
Link – SoundWave SW50