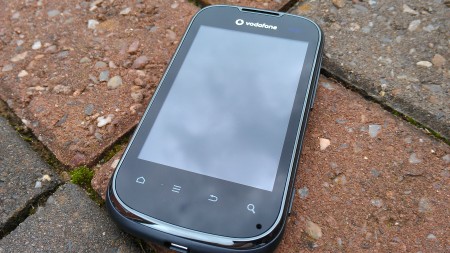 So, if we're looking at budget Android handsets we have to look at this – the Vodafone Smart II. It's going on sale for just £70 and is powered by Android 2.3. Inside it's actually an Alcatel device – the charger and battery gives it all away pretty quickly.
Up front, the Smart II (aka the V860, but you may not ever see it as that) has a 3.2″ HVGA screen and comes with a 2GB microSD card. You can have your own custom-designed rear panel too.
Initial thoughts are good. Build quality is pretty good and Alcatel seems to have done a decent job. The camera is a 3.2 megapixel camera with flash. It seems to do an OK job and, with a flash, it's already got one up on the other budget smartphones we've seen across the Coolsmartphone desk.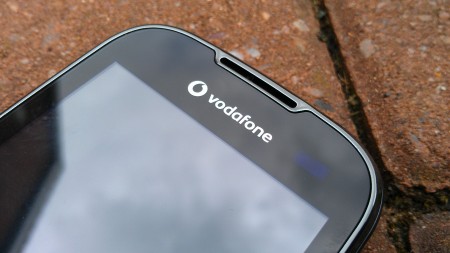 GPS, WiFi, Bluetooth, all there. The main screen is a 3.2″ HVGA and around back there's a microSD card slot with, in our review unit, a 2GB microSD card.
Outside
So, as I said, first impressions are pretty good. Considering this is £70 (who knows, it could be cheaper by the time you read this) there's no sense of "bargain basement" to the build quality or the style.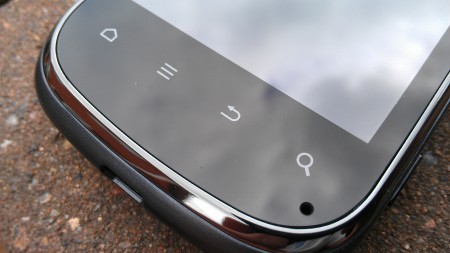 The main screen has a fairly considerable amount of border / bezel but the surrounding silver frame helps to detract from that somewhat.
Under the screen there's four softkeys – Home, Menu, Back and Search. Holding the "Home" key gets you into your recent apps, holding "Search" on the home screen gets you into the voice control app and from there you can ask "What's the weather like today" or something similar. You can see the hole for the microphone just under the search icon.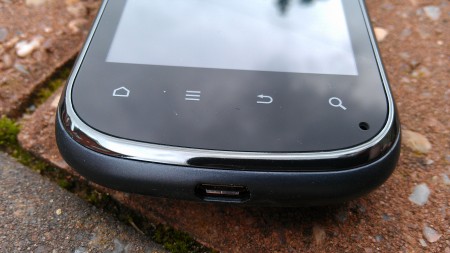 Up top there's a power key for waking up the device and a 3.5mm audio port for the headphones / hands-free kit and the small catch for removing the rear.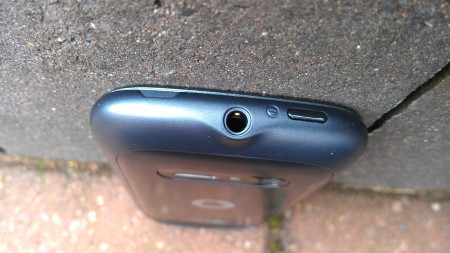 Now, the rear section is a little strange. Pop it off and the outer part comes away – that has the buttons which attach to the inner section. The centre section, which goes around the camera, is separate and comes away second. The flash and 3.2 megapixel camera is also here.
At the bottom is the microUSB charging point which you can use to move data around.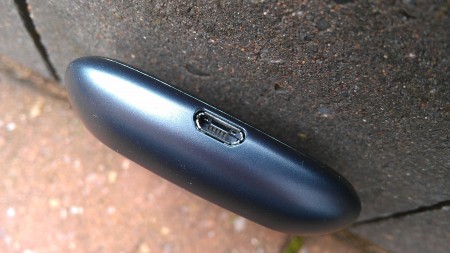 To the right there's the volume up / down and the dedicated camera key.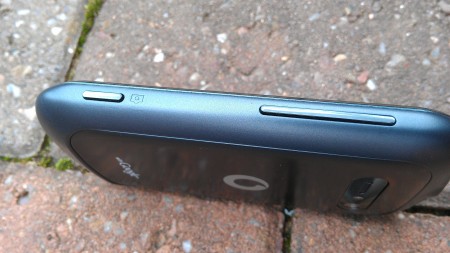 Oh and yes, the phone does look a little "thick" in some of these shots. It didn't feel overly bulbous but was thicker than most smartphones. I liked the fact that calls went straight to voicemail when the phone was flipped over too.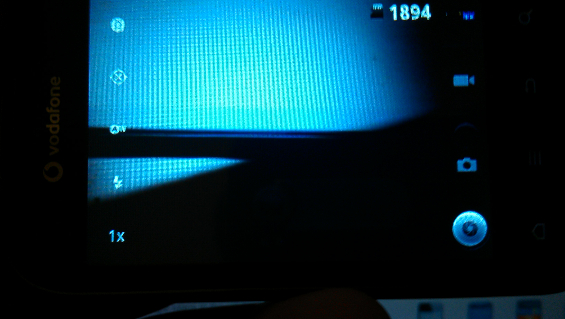 Video overview
Here's the quick overview video of the Vodafone Smart II…
Camera
OK, I'm gonna start with the camera and it's… well, it's passable. The flash might seem like an added bonus but it's sadly too puny to help with low-light shots and either does nothing to help or, if you're too close to your subject, makes everything and everyone look washed out and pale.
Shots taken without the flash seemed to have colour issues, with everything looking pale with a grey tint. Video recordings were too low quality to be of any real use.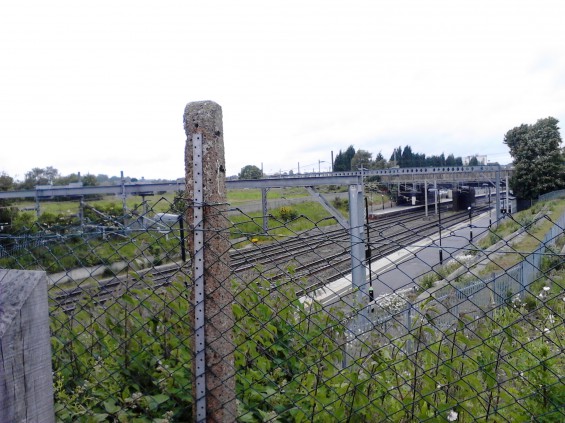 Here's a video we've filmed on the phone so that your can see the quality for yourself. Please don't ask me what the hell happened at the end of this video or why it did this, I've no idea!
Inside
Although I've read reviews criticising the low-res screen, I have to say that I've seen worse. The 480×320 screen seems to cope well enough although it was a little weedy in daylight.
Powered by Android it's going to sync your contacts and calendar with the mighty Google cloud. GMail, POP3 mail and all the Social Media stuff you can shake a stick at. You can even pull your contacts from Facebook if you so desire and there's the usual thumbnail pics and a huge selection of contact detail, but alas there's no predictive dial, so calling "Jack" couldn't be achieved by dialing "5225". A shame, and a little strange when the predictive dial function is present in texting and emails on the contact field.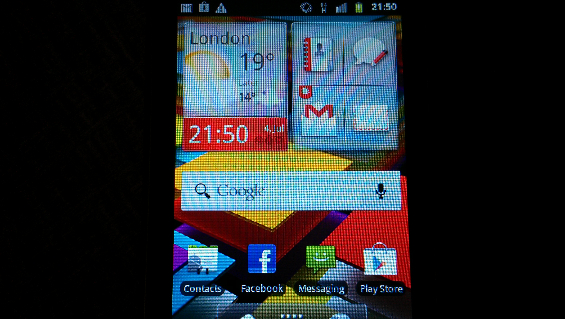 While we're talking about data entry, we should perhaps mention the rather excellent Swype keyboard which is pre-installed. This allows speedy data entry as you finger traces out the word required. There's a whole load more keyboards too of course, but Swype is one of my faves. It works best in portrait mode as, when the phone is rotated into landscape, most of the screen is consumed with the keyboard and you don't have much idea what's going on.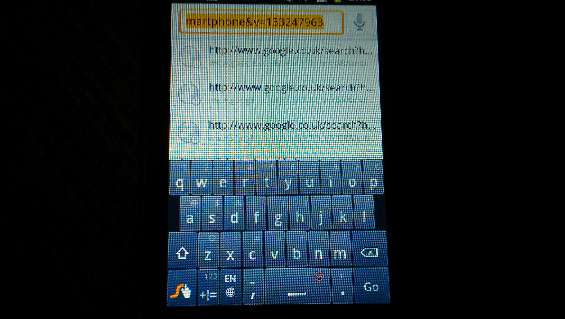 As this is an Android device you'll be adding in your Google account to register the device. That'll also open up the Google Play store where you'll be able to choose from thousand and thousands of games and apps. There's a massive selection and we found that most of the big hitters like Angry Birds and Cut The Rope worked well.
Vodafone have unpacked their toys and plastered the home screen with a variety of widgets. There's a weather widget, notification widget and one that'll deliver the latest Vodafone news and offers to your phone plus a widget to switch WiFi and Bluetooth on or off easily. You can drag and drop programs onto the homescreen and place them where you want, plus folders can be created to keep everything tidy. Backdrops, including "normal" and "moving" (live) wallpapers can be added and all the notification sounds are completely customisable to make the Smart II your own.
For those not like so much "Vodafone-ness", these can be removed very easily.

The web browser was a tad disappointing. Don't get me wrong, it rendered pages well and has the very same features of high-end handsets, but for some reason even cached pages seemed to take an age to load and it really struggled with anything but mobile-specific sites. WiFi and 3G seemed to be the same, so I'm guessing it's either CPU or memory management.
You can double-tap to zoom into reflowed text, which then lets you read paragraphs on one page without having to scroll left and right constantly.
Installed apps include an FM Radio (for which you'll need some headphones to act as an aerial), the Vodafone "AppSelect" store (which features apps chosen and promoted by Voda), Facebook, a Clock, FileManager, Google Maps, Google Navigation, a Music Shop for buying your tunes, the Google Play Book store, OfficeSuite, Play Movies, Google Talk, Twitter, YouTube and a torch.
We're not at all sure what was going on with the battery. After incredibly light use we found the phone to be flat after two days, and this was literally browsing a web page and then leaving the phone on a desk over the weekend. Using the phone in anger – just getting GPS to help us navigate into work – resulted in a flat battery as we ate our lunch. No joke, this has to be one of the worst performing batteries we've ever seen.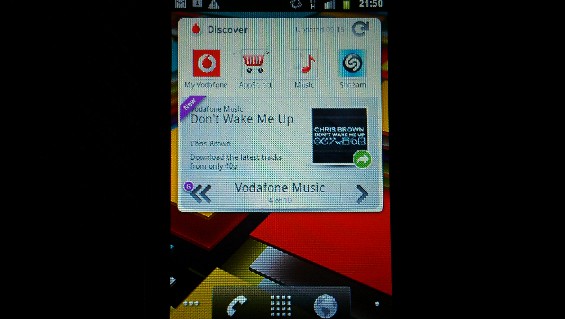 Conclusion
On the outside this phone ticks all the boxes. Alcatel have built a decent, solid and well designed phone which doesn't look or scream "cheap" in any way. Apps and games ran well, but the low-res video quality, washed-out camera images and slow web browsing left us feeling that we'd spent a little more on a phone.
The limp flash and terrible battery life added to the misery, and I really hope that a software update can go some way to improving things, because at the minute I'd avoid this particular smartphone.