So this week we got sent one of the new Hannspree HANNSpads by the kind people from Hannspree. When I initially heard that a new HANNSpad was going to be released I was quite excited. The original was quite a hit with the development community and we haven't really had a cheap decent tablet like that in a while. When I saw it was a smaller 7″ device and that it was only going to cost £99.99 I was a little dubious. What is there target market for this new device?
Upon searching through their website I found the following info under the title "Design Concept":
The brand new 7" tablet from Hannspree is light and compact enough to fit in your hand, perfect for life on the go. It features the latest Android 4.0 platform with more intuitive touch control fun. The HannsPad 7" now makes mobility, entertainment and communications easier and more convenient than ever!

Experience it and enjoy it now.
The HannsPad SN70T3 has a 7 inch screen with 800 x 480 pixel resolution. It's only 1.05cm thick, weighs just 330g and is equipped with the ARM Cortex™ A8 1GHz processor. It includes both Mini USB and Micro SD interface ports, and the five point capacitive touch screen technology puts all of your favorite games, music, videos, photos, books, websites and social media sharing functions at your fingertips.

The SN70T3 runs on the latest Android 4.0 ICS (Ice Cream Sandwich) operating system and provides a more user-friendly interface, including a face unlock system, integrated system monitoring, font personalization, and multi-tasking functions…etc. With the SN70T3, enjoy the freedom to do anything, anywhere.
So they are basically wanting the new HANNSpad to be a hit with bargain hunting home users. In an increasingly competitive lower end of the market is it possible to achieve this? During the next week or two I will give the HANNSpad a thorough test out and see if it can live up to its predecessor and it's own hype.
Design
The HANNSpad has a leather back plate, yes I said leather. Or that's what they say it is. I guess mine was just a bit more plasticy than leathery. The HANNSpad is put together well and doesn't have any sharp edges or odd angles, being only 7″ it fits in the hand well and you could easily fit it in a pocket. Around the outside of the HANNSpad there is a mini usb port, headphone socket, power cable socket, micro sd slot, power button and volume rocker. Seeing the micro sd slot on the outside of the unit is a pleasant surprise.
The HAANSpad and most other 7″ tablets I have used feel more natural held in the portrait orientation. A smaller device in landscape never feels quite right, however the screen on the HANNSpad seems to distort text slightly when viewed in portrait.
The screen on maximum brightness also doesn't seem to be as bright as other devices, I will need to look into this over the next few weeks.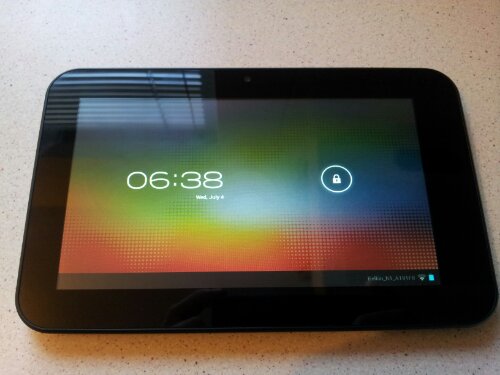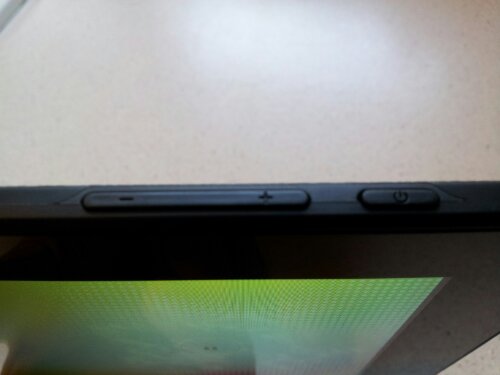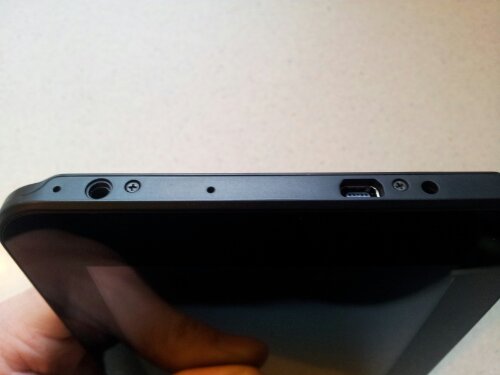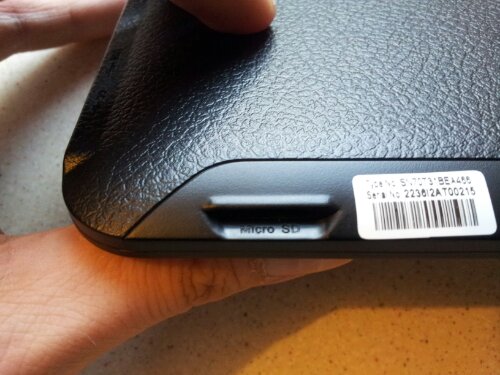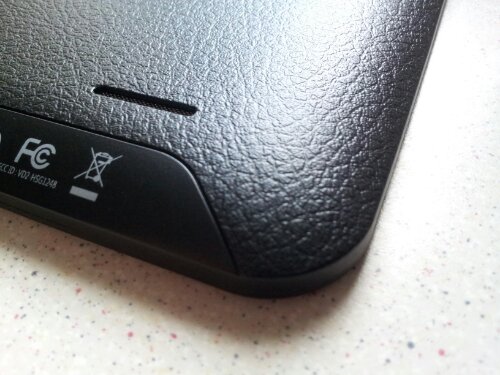 Software
The HANNSpad comes with Ice Cream Sandwich, it also comes without any access to the Google Play Store. Whether or not this will be a killer blow I am unsure at the moment. Hannspree didn't install the Play Store back in the day on the older models and have decided to continue the trend. I guess they do this to cut costs, but in the real world they are doing more damage than good. They have installed the 1Mobile market instead, which offers 200,000 apps. Most of the current popular apps are on there. New apps like Instagram and Flipboard even featured, even a selection of Google apps appeared as well. It does feel like someone has just created backups of the apps and are hosting the apks themself. It also has a LOT of dodgy looking apps in most of the app lists. I will test this out more in the next few weeks.
One thing that keeps catching me out is the stock keyboard, it keeps missing the odd keypress, I will be installing an alternative keyboard for the full review.
Initial Conclusion
After spending a day or two with the HANNSpad I keep coming back to the Play Store issue, is it a problem? At this price point I don't think so, this sort of device is for leaving on the kitchen worktop for someone to grab and have a quick play with whilst waiting for dinner. As to how I get on with the alternative I'll soon find out.
Over the next week or so I will be using the 1Mobile market and installing as many apps and games on it as possible, trying out some ebooks, watch a few films, listen to some music and just generally getting to grips with the HANNSpad. If there is anything you want me to try out then please leave a comment below and I'll do my best to include it.