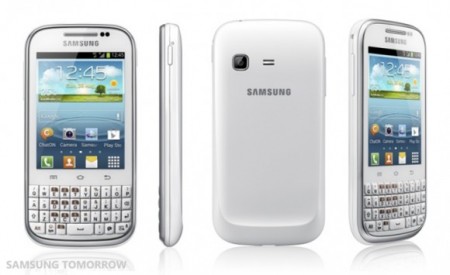 While Blackberry devices may be struggling to gain some market share right now, thankfully not every company on the planet is avoiding qwerty devices with a barge pole.
Now this definitely isn't going to be rivaling your best friends new Galaxy S3 on the spec front, but if you must have a hardware keyboard this is going to be an appealing little device. The screen here is a 3″ QVGA touchscreen and there's a slightly disappointing 2-megapixel camera, but at least your snaps will struggle to fill up the 4GB of internal storage. Thankfully there's a microSD slot and a solid 1,200 mAh battery which should help house the music collection and get you through the day. The WiFi b/g/n and Bluetooth 3.0 should be great to keep you connected too.
There's two interesting features here that have particularly caught our attention; the first is that this phone runs a Touchwizzed version of Android 4.0 Ice Cream Sandwich, so it's relatively up to date on the software front. But there's also said to be an LTE version of the phone coming, which is a surprising addition given that we expect this phone to be squarely aimed at the low to mid-point of the market. Unfortunately we don't know what sort of processor will be powering the show and we don't have any details on price points, but as soon as we hear we'll be sure to let you know!