In recent years we've seen a shift in the way that mobile devices are used in the workplace. Previously you may have had a Blackberry or Microsoft Pocket PC dropped on your desk. Things were locked down, secure and managed. Now, with the advent of "Bring Your Own Device", employees are bringing their own phones and hooking it into Exchange or the local WiFi to access company resources.
Whilst this is great in theory it opens up a can of security worms. Now there's an estimated 90% of employees using their own technology at work. Without management, this can result in data breaches, so some sort of security needs to be added.
This is where Mobile Device Manager from 3CX comes in. It's free, there's no software to worry about and it's really simple to get going. Put simply, it's a portal which shows you where registered mobiles are, where they've been and what apps are running.
But that's not all. You can deploy applications to Android phones or groups of Android phones, and you can see what's installed too. If phones get misplaced you can remotely lock them or wipe corporate data and emails before it all gets in the wrong hands. You can received alerts and send messages to users too.
Getting started is easy, you just grab yourself a free account on their website.
From there it's just a matter of getting the the app onto each phone you want to manage. It's easy enough to do, you just search for "3CX", but you can also take a snap of the QR code that pops up. Once the app is installed you simply enter the account name you provided during the sign-up process and you then authorise it through the web app. Done.
First up, perhaps one of the most useful items – tracking where your phones are. This obviously uses GPS and you'll notice the GPS signal flashing away on your phone quite often. This can have a small affect on battery life. In the Global Settings there's an option to alter the "Client Update Frequency" which sets how often to get data, so presumably by tweaking that down you can reduce the GPS activity somewhat.
Note how it'll also show you the battery level and CPU activity..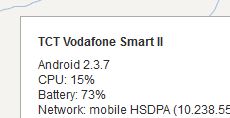 I've clicked on one of my managed phones and can see the apps that are installed easily – note the buttons which hide internal apps and deploy apps remotely. You can also set a Policy just purely for the device you're looking at, deploy an APK file or add a file from Google Play. Oh, and of course, you can remove apps that really shouldn't be on a work phone..




Here's the settings for the phone and the iPhone MDM options too..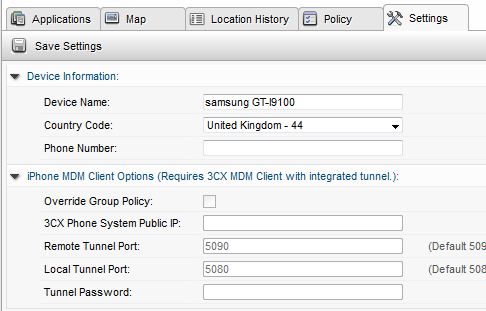 The security aspect is all-important too, so it's from here that you can block, lock and wipe a phone. Perfect if a device has just been left on a train with those all-important emails and documents…


It connects to Google Maps, so you can use Satellite or Terrain view with Location History. Switch to the Location History tab and you can see where the phone has been in the past – it'll use network transmitters to get the location too. You can disable tracking and export the whole lot to a CSV file. Click each historical item to see it on the Google Map.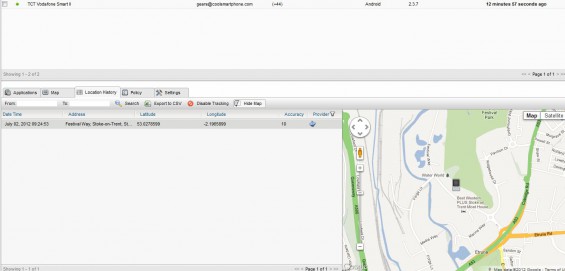 Mobiles can be sorted into groups, so you can message or manage blocks of users easily..


Then you can send them a notification message to let them know what jobs need doing for the day…


You can also send a location, so for example you could give a delivery driver the location of their drop-off or pick-up point easily, even send a URL…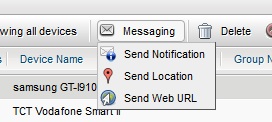 There's a mass of options within the "Global Settings" screen. Too many to mention here, but you can customize your experience as you see fit.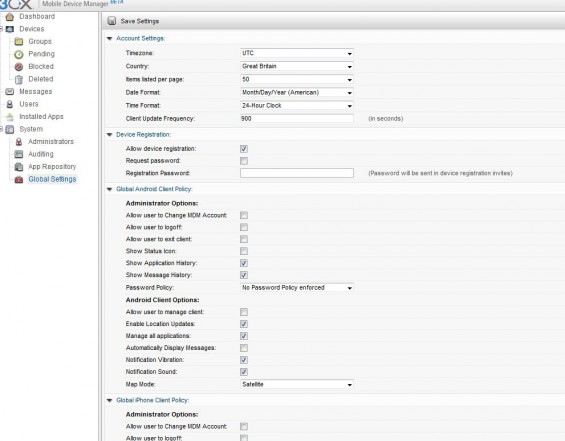 Still confused? Well, don't be, we've put together a little video showing how easy it is to setup and get going.
Overall, we were more than impressed purely because it was so flippin' easy to get going and start using it. Sign up and have a go. The security aspect should be of particular interest, especially with so many personal devices flooding into premises. Oh and sure, the GPS can be disabled if the user wants to, but as a way of tracking your fleet, managing your workforce and ensuring compliance it's a fantastic system.
Link – Mobile Device Manager