This little app is for Android tablet running Honeycomb or higher. It adds a few buttons to the status bar area on your tablet. The buttons will change the media volume without having to use the hardware button.
It is really quite useful if you want to quickly adjust the volume whilst listening to music or something and you don't want to wear out your hardware button. Some tablets also have strangely positioned volume buttons as well.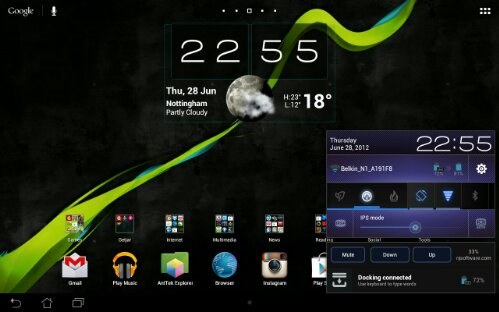 Control the media volume from within the Notifications window on your tablet. Volume in Notification is intended for use on tablets running Android OS 3.X and up.This app puts a media volume and mute control in the Notifications window that can be accessed from the status bar on your tablet. It lets you adjust the volume without using the hardware volume button and without exiting the app that you're currently running. For example, you can adjust the volume of a video directly from the Notifications window while continuing to watch the video.

We developed this app because we often find it hard to use the hardware volume button on a tablet, depending on its orientation and how we have it set up in the stand. We hope you find it useful too!

Note: This app will only control media volume. In general, media volume includes music, video, and game sounds.

To use: Tap on the app icon and select Activate. This will put the volume control into the Notifications window. On the status bar, tap on the time to access the volume control.

To close: Tap on the app icon and select Deactivate.
Play Store Link – Volume in Notification