The Motorola Xoom is going rather cheap at the moment. Misco are selling them at £220.80 for the next day or two. The promo is for 72 hours and it started on Monday morning.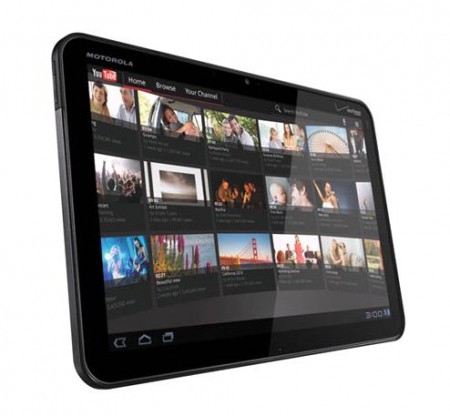 The Motorola Xoom they are selling is the WiFi only 32gb model. You can officially update this model to Ice Cream Sandwich as well. Quite a bargain if you want a cheap solid device. The Xoom also has HDMI out which is nice.
Although anyone thinking of buying a tablet this week should possibly wait a few days and see what comes of the Google/Asus Nexus 7 tablet. Which is rumoured to be about this price range and come with the latest version of Android as well.
The spec is pretty standard for that generation of tablets ie Tegra 2, 10.1" etc etc.
Specifications
Product Description
Motorola Xoom – Tablet PC
Processor
nVidia Tegra 2 Dual Core – 1GHz
Storage
32GB Flash Memory Capacity
Networking
Wireless LAN 802.11b/g/n
Bluetooth 2.1
RAM
1GB DDR2 SDRAM
Display
10.1-in.; WXGA (1280x 800 pixels; 150 pixels / inch), HD 720p
Camera
2.0 MP front & 5.0 MP back
Interfaces
1x HDMI
1x Micro USB
Playable Formats
AAC+ Enhanced, H.264, AAC, MP3, H.263, OGG, MIDI, AMR NB, AAC+
OS Provided
Android 3.1 (Honeycomb)
Dimensions (WxDxH)
249 x 167.8 x 12.9 mm
Weight
700g
Power
Battery Type : 24.5 W-hr
Browsing Over WI-FI : Up to approx. 10 hrs.
MP3 Playback : Up to approx. 3.3 days
Standby Time : Up to approx. 14 days
Video Playback Time : Up to 10 hrs.
Manufacturer Warranty
One-year Warranty
Source – Misco