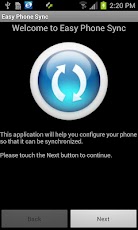 Samsung have stepped up their undeclared war with Apple by offering free software to help users defecting from iOS transfer their media, contacts and archived text messages.
The software also enables users to continue to use Apple's iTunes software to manage their Android handset…a sure selling point.
Easy Phone Sync – the name Samsung have given to their genius software – is available to anyone buying a Galaxy smartphone and is downloadable from Google Play whilst a desktop tool is available from Media Mushroom.
It remains to be seen precisely how many people this free software will tempt to move from Apple's iOS to Samsungs loaded with Android but it will probably take a little more than software that allows the use of iTunes.