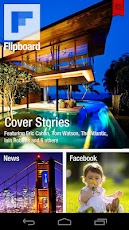 A little while ago we bought you news that the iOS exclusive app was coming to Android via the Samsung Galaxy SIII.
Following leaks and several beta releases we bring you the news that Flipboard is now available on Google Play.
The app, specially optimised for smartphones (the blurb specifically mentions not tablets) brings all of your news feeds into one very pretty place enabling you to connect to 12 social networks including Twitter, Facebook, Instagram, Google+, YouTube, Google Reader, LinkedIn and Flickr.
News outlets such as BBC, Daily Mail, USA Today and Coolsmartphone are all presented in an easy to read magazine format.
Flipboard for Android is now available to download from here.