The Gear4 StreetParty Size 0 is a small, thin and light speaker designed for ad hoc music listening. I've been using it over the last few days but is it any good? Read on to find out…

The first thing I noticed when taking the Size 0 out of the box is just how thin it is. Size 0 is an appropriate moniker. It's around the same size as your average 7 inch tablet but a little lighter. The whole product is one solid colour and as you can see mine is a bright blue colour. Other colours include an equally bright green as well as pink and a more subtle grey and black. Also included in the box are an AC Adapter, Remote control and Neoprene Sleeve. Don't be put off by the mention of an AC Adapter. There is a slot in the back for 4 x AAA batteries.

The front is dominated by a metal speaker grill whilst the back is coated in a soft touch plastic reminiscent of the Nokia Lumia 800 both in terms of finish and shade. The back is where you'll find the AC adapter socket, an AUX in port and power switch, as well as the aforementioned battery slot.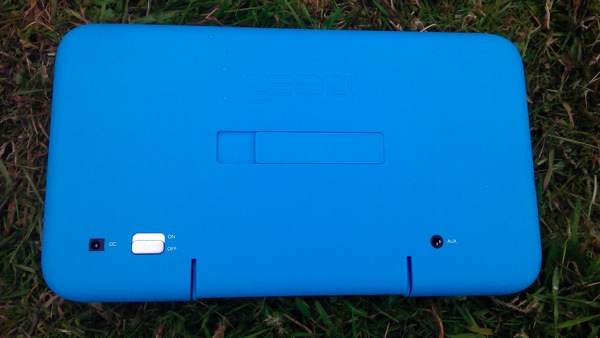 Back around the front is where you'll find the 30 pin dock connector. This is quite nifty. It folds out and not only reveals somewhere to put your iPhone, iPod or iPad but also acts as a stand. It's pretty sturdy when unfolded even with a device docked. You will need to place one hand on the speaker to undock though as the speaker is so light. On either side of the dock are silver accented column buttons. The phone charges when the dock is connected to the mains supply too.

Sound quality was great. I won't say it was excellent as I have tested better speakers but, in fairness, they were nearly 3 times the price. I tested a range of different music types (with the aid of Spotify's new radio service) and all sounded clear and well defined. Bass response is a little on the shallow side but I expect that's down to the size. It isn't poor but you won't be getting your fix of WUB WUB either. Sound easily filled my living room and garden without being on the highest volume.
The neoprene case is a nice addition as it keeps the speaker safe so it can be thrown in a backpack or handbag. There's even a little pocket to keep the remote in. The Remote is also a handy pack in with all the features you need and will keep you returning to the dock to skip that stray Justin Bieber track that somehow made its way onto your playlist.
My only real complaint about the speaker lies with the Aux In. Sound quality was the same as on a docked device but the placement is strange. It's on the back instead of the side, which means the speaker has to be flipped open to use and your device placed next to it. This looks a little silly but it really is a minor complaint. Also I should add here that there is no aux in cable included either.
In conclusion I would recommend the Gear4 Size 0 to anyone who needs portable audio and doesn't want to cart around a big speaker. There are lots places I could see having this speaker coming in handy such as festivals, hotel rooms, garden parties, beaches etc. The AUX in is a minor complaint and if you are an iOS user then you'll never notice it. The Size 0 retails for around £60 and is available from retailers such as Gear 4, Amazon and HMV.
If you have any questions then please let us know in the comments below or in our forum.
Links – Gear4