A few weeks ago Hannspree tweeted a picture of the upcoming Ice Cream Sandwich HANNSpad. Today they have announced the actual spec and price for the device. The press release is below and quite a few things stand out from it.
Key points for the new HANNSpad are:
– It only costs £99.99
– 7″ LED backlight with 800×480 resolution (16:10)
– Leather-feel back casing
It looks like it could be quite nice, although the lack of the Google Play Store and only 512MB of RAM might make the HANNSpad a little slow and difficult to get apps. Hannspree seem to have installed a variety of third party markets to supply apps. Hopefully we will get out hands on one soon.
The previous HANNSpad was quite a hit with the Android Community as it was quite hackable, whether this new one will be such a hit we will see.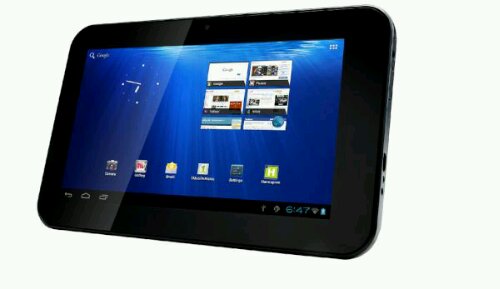 The HANNSpad Tablet PC from Hannspree is back

Join the Tablet PC revolution for only £99.99

Hemel Hempstead. 11 th June 2012. Following the success of its first entry into the Tablet PC market, consumer electronics manufacturer and AV specialist, Hannspree is back with the new 7inch HANNSpad. Featuring the latest Android 4.0.3 OS, a stand out leather-clad design, and a very affordable £99.99 price tag, the HANNSpad SN70T3 is set to entice many new Tablet PC users to the mobile gadget revolution already in full swing.

The new HANNSpad boasts a unique and functional design. Its 380g light weight and super slim form makes for total mobility, convenient packing and comfortable continuous daily handheld use, whilst a leather-feel back casing gives the HANNSpad an elegant, stand out design for the modern, fashion conscious tech adopter. The focal point of the HANNSpad SN70T3, the impressive 5 point capacitive multi-touch 7" display, offers super slick navigation, alert responsiveness and superb optical transparency for a truly intense visual experience. The front face also incorporates a webcam and internal microphone for video chat (i.e. Skype).

Powered by 512MB RAM and a 1Ghz ARM Cortex CPU with built-in graphic processing, the SN70T3 works hard to perform effortlessly at all times. Its superior video performance even allows for smooth, uninterrupted playback of Full HD MKV video/audio files. Combined with up to 5 hours of battery life for continuous video play the HANNSpad is the perfect host for multimedia entertainment such as films and TV programmes.

There are plenty of storage options for an arsenal of files, pictures, music and apps. 4GB storage is included as standard and this can easily be upgraded by a further 32MB via the Micro-SD card slot. In addition, the HANNSpad also supports USB memory storage – by utilising the supplied USB cable users can plug in an external storage device (up to 64GB.)

Running the latest Android OS (Ice Cream Sandwich), HANNSpad users, especially those who are new to the mastery of the Tablet PC menu system, can enjoy simple, intuitive navigation of the uncomplicated interface and a fully customizable homepage. Experienced Tablet PC users will enjoy super quick multitasking and manageable shortcuts. Notably Android 4.0.3 simplifies communicating and sharing with others via its People App which offers social users that like to interact on the move more accessible controls to keep in touch with friends and family.

A number of apps are preinstalled such as; Music, Gallery, Settings, Camera, Calculator, Clock, Downloads, Browser, Calendar, Email, Voice Recorder, Search, 1Mobile App Market, Camangi App Market, Adobe Reader, File Explorer, Note Everything.

The HANNSpad will be available to buy from various retailers in the UK from the end of June for only £99.99 including a 2yr warranty as standard.

HANNSpad SN70T3 Specification (£99.99):

Screen: 7" LED backlight with 800×480 resolution (16:10)

Touchscreen Type: Capacitive Multi-Touch (5 points)

CPU: ARM Cortex A8 1.0GHz

OS: Android 4.0.3

Memory: 512MB

Internal Storage: 4GB Flash

Audio: Microphone + 1x 1W speaker

Connectivity: WiFI 802.11 b/g/n

Webcam: Front 0.3 Mega Pixel

I/O Ports: 1 x Micro SD Card Reader, 1x Mini-USB 2.0-Cable supplied, 1x Headphone (3.5mm)

Supported Video Formats: MKV (H.264), FLV, MPEG1, MPEG2, MPEG3

Supported Audio Formats: MP3, AAC, AC3, WAV

Supported Image Formats: JPEG, GIF, PNG, BMP, WBMP

Dimensions: 230 x 150 x 10.5mm

Weight: 380g

Battery: Lithium Polymer 3000mAh/3.7V (Up to 5hour (video play))

2 Years Warranty