We've had Ferrari and Asus, Porsche and Blackberry, and now the latest supercar manufacturer to enter the hi-tech world of computing and communications is Lamborghini!
As well as a couple of rather lo-tech feature handsets, the maker of such classics as the Countach and the Aventador is launching its very own Android phone.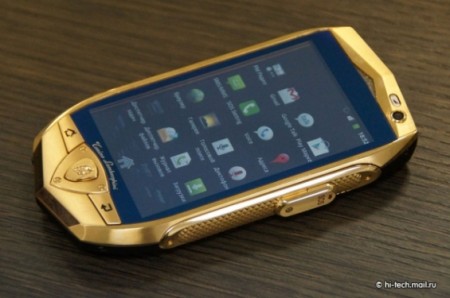 The TL700 ships with 2.3 Android Gingerbread – a touch disappointing for a supposed premium device. It runs on an unknown Qualcomm processor and has a 3.7-inch 800 x 480 resolution display. There is a 5 megapixel camera on the back and VGA on the front, 4GB internal memory and a 1,400mAh battery. The phone has a gold plated body, sapphire glass coating for the display and crocodile skin back.
Selling for 90,000 rubles (£1805 at todays exchange rate) this is quite clearly a snip for the Abramovich's of the world!!

Also on the horizon for the budding football club owner or oil baron is  an Android tablet, the L2800. It has a 9.7-inch, 1024 x 768 resolution display, 1.2GHz Qualcomm processor, 512MB of RAM and 4GB internal memory (expandable). It also runs on Android 2.3 but it will be updated to Android 4.0 in future.  Somewhat strangely this actually works out cheaper than the TL700 at a mere 75,000 rubles (£1504 in the UK).
As you can see from the pictures these are absolutely stunning looking devices with what looks like top quality workmanship.
No actual launch date has been given but rest assured, we at Coolsmartphone.com will do all we can do obtain review models of both devices!!!
Fancy owning your own Lambo, already have a Porsche Blackberry – Let us know on the Coolsmartphone Forums.