The BlackBerry Curve 9320 is the most recent BlackBerry available and comes with the latest version of BlackBerry OS, 7.1. Aimed at the lower end of the market and priced at around £150 this phone is the natural successor to both the Curve 8520 and 9300. Having owned multiple BlackBerries in the past I was intrigued to try this phone and see how much the experience has changed since I last used one as my daily driver at the end of 2009.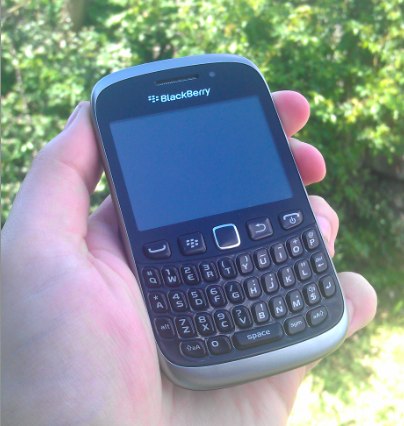 Hardware
The device itself looks like a combination of its predecessors. At first sight it seems to have the same keyboard as the 8520 which isn't as top-notch as the higher end of the BlackBerry range but still does a pretty good job of text entry. I found myself tapping out email responses and tweets easily after only a few minutes. The keys all have good tactile feedback and I thought they may be a bit on the small size I got on just fine even with my sausage fingers.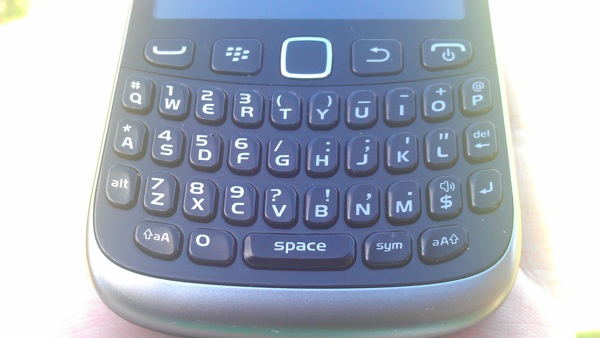 I happened to have the Curve 8520 to hand and did some testing to compare the two. Typing the same text on both devices I was consistently quicker on the older model. To make sure this wasn't a fluke I got my girlfriend to do exactly the same text and we were both, on average, 30% quicker with both long and short text using the 8520. The new keyboard does feel somewhat spongier and the tactile feedback wasn't as good as the old one. This isn't to say the 9320's keyboard is poor but there is definitely a change when compared to the 8520 and, in my house at least, not in the right direction.


On to the rest of the phone now and the front is surrounded by a metallic looking band, sadly its not real metal but plastic. Across the middle are the call menu key and back key placed either side of an optical trackpad. These keys all have a satisfying click to them and having each of them separated was good for unsighted use (they aren't as clearly defined on the 8520).
The optical trackpad is excellent. This is how the vast majority of navigation is done on the device and it felt smooth and responsive the whole time. It makes me pine for optical trackpads still being commonplace on phones as it made for a lot more precision when selecting things that I can't achieve with my either my fingers, or heaven forbid, a stylus.
On the right edge of the phone are the volume keys. In the centre is also a mute key. These don't adjust the volume of the ringer on the device from anywhere ala Android and iOS. That has to be done through the profiles setting. This seems like an obvious and natural feature and was a little jarring when I forgot about it, resulting in me having to dig through options. I often turn my phone down in my pocket and I couldn't do that on the BlackBerry.
Beneath the volume key is a convenience key. This can be mapped to a large range of functions within the phone. The default is to launch the camera, it also acts as the shutter key once the camera has been launched. There is another convenience key on the other side too. This can be remapped also but the selling point of this device is that this key is used to launch BBM. It even has "BBM" embossed beside the key. The MicroUSB charging port is a little further up. I've never been a fan of these being on the side of phones and this is no exception, it hinders the use of the phone when plugged in and has the knock on effect of severely reducing the chances of a 3rd party dock, especially since there are no dock connectors on this particular model.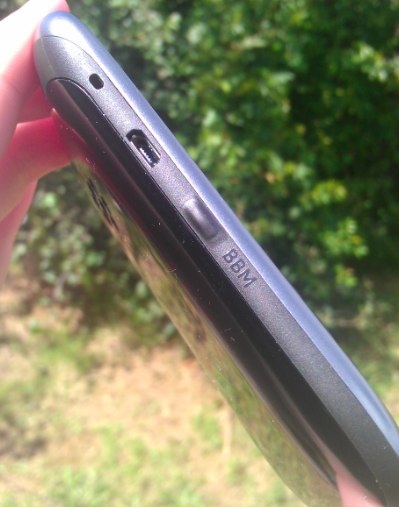 The back of the phone is glossy plastic battery door complete with large mirrored BlackBerry logo. Higher up is the camera and flash. The sensor here is a 3.2 Megapixel effort, which isn't the highest resolution offered on devices in this range but is at least a step up from the 2 megapixel shooter on the 8520. More on the camera later in the review. The top of the phone has the sleep/wake button and the 3.5mm headphone jack. Speaking of audio, I was presently surprised at the audio on this device using the in built speaker. I downloaded the Spotify App and was impressed by the sound quality. It was definitely better quality and had more depth than my HTC sensation or iPhone 4S.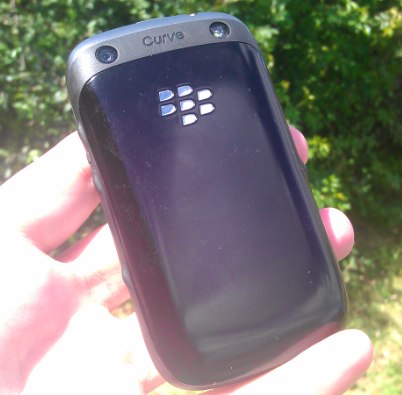 The screen is measures 2.44 inches and has a resolution of 320 x 240 pixels, which gives a pixel density of 164 ppi. There's no getting away from it that by todays standard thats low resolution. Text has jagged edges and images lack any sort of reasonable detail. The problems only get worse when trying to view webpages as you have to zoom in pretty far to be able to make anything out.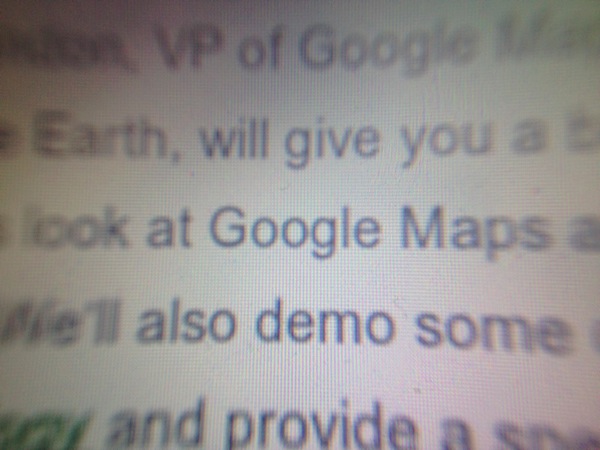 Software
As mentioned at the start of this review the software on this phone is the latest RIM has to offer in the form of BlackBerry OS 7.1. I'm not going to go into a huge amount of detail here as that has been covered elsewhere extensively but I will touch on some of the main features and a few common apps.
Speaking of Apps, the selection on BlackBerry App World is quite poor. I suspect many developers are hindered by the lack of a touch screen but spending about 30 minutes looking through the store I found very little that intrigued me. The majority of the ones that did were overpriced. Now, I'm no cheapskate when it comes to apps, but £15.00 for an offline wikipedia reader would be expensive by anyones standards.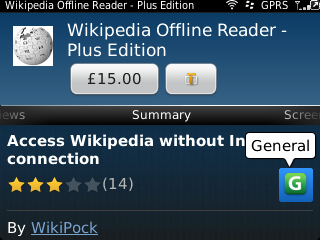 The homescreen has remained largely unchanged save for how you access your application icons. On previous versions of the BlackBerry OS the homescreen and app list were 2 seperate placeS but now they are as one. You have a dock of sorts on the bottom of the screen comprised of 6 apps, this then slides up to reveal the remainder of your applications, whilst a swipe left and right will reveal different categories of apps such as Favourites, Downloaded etc. This is quite a nice feature and felt like it tightened up the experience. On an Android phone as an example the user is very conscious of having a seperate home and app screen where as here they are ostensibly the same place.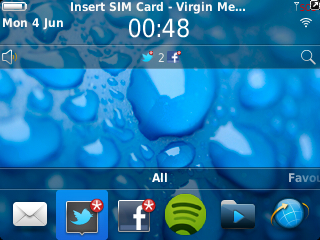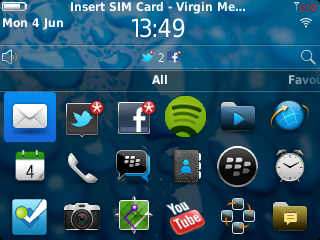 Beneath the clock on the home screen are notifications. Whenever an app has an outstanding notification it will appear here accompanied by the number of items that need to be actioned, such as Emails, Texts, Tweets, BBM's etc. Select this bar and a list of all the outstanding notifications appears. Each one can be selected and you'll be taken directly to the associated app. This may not be revolutionary but its nice to have notifications front and centre instead of hidden away.
To the right of the notification bar is Universal Search, which is the BlackBerry equivalent of Spotlight on iOS. Type something in here and the list below will be populated with related items such as messages, bookmarks, apps etc. This is handy if you are looking for an email as it negates the need to drill down all the way into the app and start hunting through a huge pile of read messages. It should be noted here that the default web search is Bing.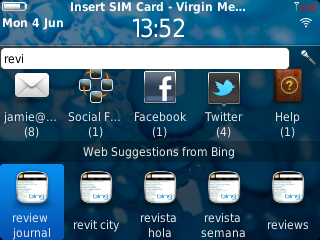 The social apps on the phone, such as Twitter and Facebook are functional enough but have some strange quirks that need to be addressed. Twitter for BlackBerry refuses to maintain its position in the timeline which is annoying when refreshing after a few hours away. You will be reading a tweet from 2 hours ago, refresh, and the next tweet is from seconds ago. You then have to scroll through upto 100 tweets to continue reading where you left off. The Facebook app is mostly functional save for one minor annoyance. Comments are sorted by newest first which is a little jarring given they are oldest first on every other platform. I understand this is to get you to the latest comments quicker but if a thread is a few comments long, its a little confusing until you remember your effectively reading it in reverse order.
The Web Browser is a definite improvement over previous versions. Pages load a lot faster and in their original formats. Tab browsing is also available which is welcome but sadly the rest of the experience is downhill from there. Webpages look tiny when zoomed out so reading anything on the screen requires a lot of zooming and panning around. As a consequence of the screen being landscape you'll find yourself continually scrolling to read content. Overall the experience wasn't anywhere close to what consumers have come to expect from other smartphone browsers and is probably best used for occasional checking of vital websites rather than casual surfing on the move.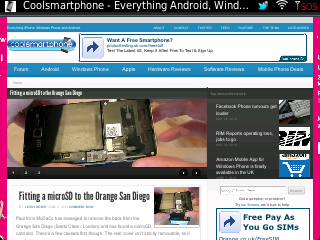 One other little niggle I will mention is that the clock is not present throughout the OS. I rarely wear a watch and not being able to glance up at the time whilst checking twitter was a particular bugbear.
Camera
As mentioned previously, the camera isn't the best you can expect to find in a phone, even in this price range, but it still does an amicable job of taking stills and video for sharing with people quickly. The interface is simple enough and the right side convenience key acting as a shutter button is useful. If your looking for fine grain control over white balance etc you won't find it here. The flash is a welcome addition, A few of my Facebook friends have 8520's and I can also tell when they have uploaded a photo from their phone because the images are dark but this seems to have been solved here. Here are a few sample shots, the review continues below.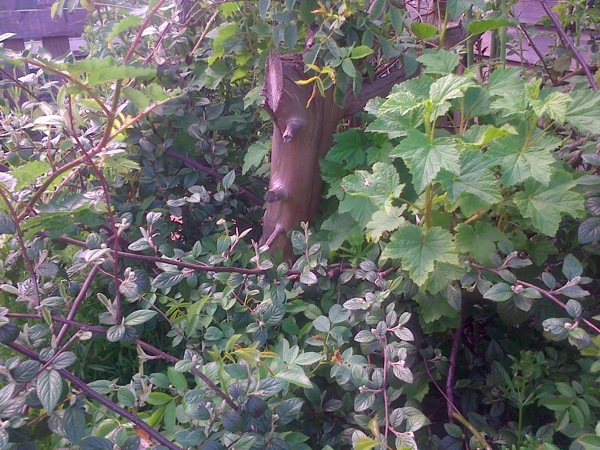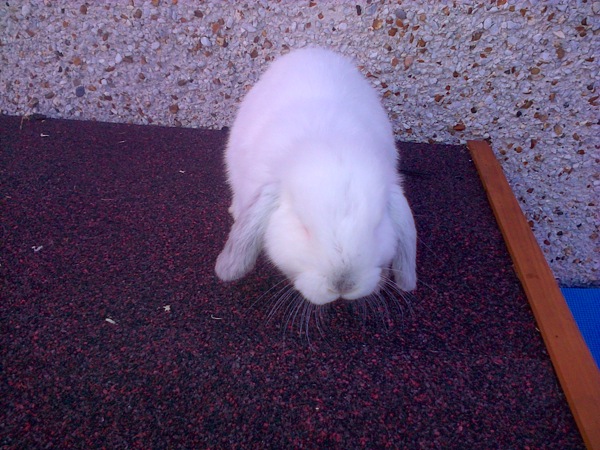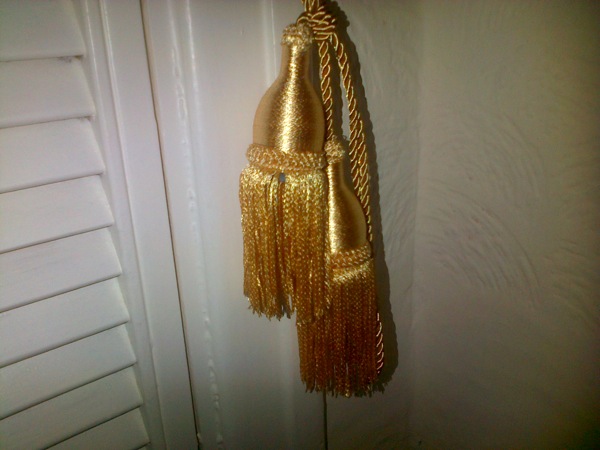 Messaging
When BlackBerries began becoming popular it was mainly amongst heavy email users. The keyboards and push functionality were almost unique at the time. These days the focus has shifted somewhat to BBM and Social but email still has an important part to play. Emails are almost consistently a black text on white background which allows the user to concentrate on the content. This does however make the inbox seem a little plain and on a device thats becoming more aimed at the constantly connected teenager rather than the suited and booted city types then a little bit of the aforementioned visual flair wouldn't have gone a miss. All the functionality you would expect from an email client is here though, attachments are easily viewed and senders are clear. Keyboard shortcuts such as "R" for reply are also useful for speed. HTML emails look awful as well. They are zoomed in and require a frankly ludicrous amount of scrolling to see the content.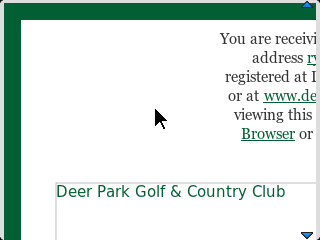 Text Messages are initially located in a seperate app but with a lot of the apps on the phone including Facebook and Twitter, they can be shown in the Messages app to form a sort of unified inbox which allows users to deal with all of their communication in one place and reduces the need to bounce between numerous apps. SMS looks a little more appealing than Email, with conversations being presented in alternating bubble format, allowing the user to keep track of who said what and when. MMS are also handled here and, although basic, are about as functional as you could expect.
Next is BBM. This is the main selling point of a BlackBerry for todays youth. An instant messaging service that is essentially free (some networks charge for BlackBerry services) that allows the user to send pictures, audio, group messages etc. You've probably seen people sharing their "pins" in the past, usually a combination of numbers and letters. This gives a degree of anonymity to the user that is not always welcome and has long been a gripe of mine. Whilst BBM used to be a best in class service, I personally fail to see why its better than the myriad of other service available on other devices, such as Google Talk, Whatsapp, iMessage or even email! I've tried to see how it differentiates in todays market but unfortunately I can't.
Wrap Up
I have enjoyed having a physical keyboard on my phone for the last few days, whilst I wasn't massively quicker than I was on a soft keyboard I did make fewer typos. Having a keyboard on your phone made me feel like I was getting stuff done, even if I wasn't actually doing anymore than I normally would. I would recommend this phone to someone moving up from a feature phone but beyond that I fail to see the appeal. There are far superior Android and Windows Phone devices available in this price range and given that RIM has announced that BlackBerry 10 will be launching this year, I cannot help but feel the Osbourne Effect will take hold on RIM's current lineup, as none of them will be upgraded. However, If you need a cheap(ish) device with a physical keyboard then this is probably the best I've seen.
If you have any questions about the device then please feel free to ask them either in the comments below, or on our forums (where you could also win a phone just for signing up). I'll do my best to answer of all them as quickly as possible.