The other week I got myself a Samsung Galaxy Note. Before I had one I was always interested in it but also concerned about the size.
What a lot of people ask me when they find out that I have got one, is "is it too big?" or "won't you look stupid with that on the side of your head?" the answers to those questions are "no" and "maybe".
I normally use a Nokia Lumia 800 as my daily device. It is great for handling all my calls, sms, email and contacts. I also normally also carry an Android phone with me, mainly to manage my Cloud Storage, write the odd article on the move or pass time with Social Media. So after having the Note for about a week I thought "could I use this as my main device". So I dreamt up this little challenge.
One phone, one week, simple. I would put my main sim in the Galaxy Note and use the Note and nothing else for a week. The plan was to even write this article using the Note as well. So off I went to bed ready for the difficult week ahead.
Day 1
Normally I get up too early, grab my Lumia, wake my dogs up and head out for our morning walk. Today I grabbed the Note instead. Held it up to my fleece jacket chest pocket. Phew! It fits. 🙂 Off out I go.
A bit later I finally get to sit down. Normally I dig out my laptop or tablet to catch up on tech news in the Windows Phone or Android worlds. Today I thought I'd give it a go on the Galaxy Note. I fired up Google Reader and found that the Note easily handled a bit of news. Normally hunting for news on a phone I have to pick the mobile versions of the site to get a better experience. With the Note I could easily browse desktop version of websites. The 5.3″ 1280×800 screen really lends itself to Web browsing. Even in portrait most web sites a easily readable with very little zooming or scrolling.
Now it was time to go to work. I usually cycle to work and as a means of keeping track of my weekly mileage I use Endomondo. On Windows Phone the interface is straightforward and the size of Lumia 800 really lends itself to being stuffed in the pocket of my cycling shorts and tracking my milage. So I loaded up Endomondo on the Note and realised it had way more functionality and settings on the Android version. I set it up and stuffed the Note into my shorts and headed off. Amazingly it didn't get in the way of cycling. It might be easier to put it in a rucksack or something, as some shorts may struggle with the Note.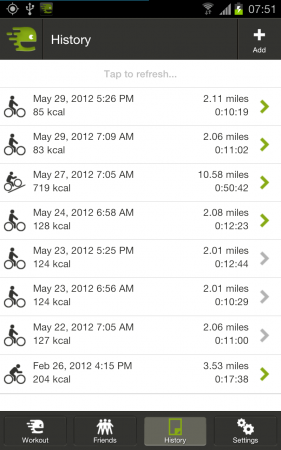 The rest of the day was spent telling people at work what on earth the huge white phone I had with me was. Several people actually decided they wanted one, including a woman! The main thing that won them over was the web browsing demo I gave them and some of the Draw Something addicts were relishing the chance to play their beloved game on a big screen with a stylus.
One thing I did notice being back on Android was the number of social networks I could interact with. My Lumia handles most of these well apart from Instagram and Google+. Yes there are third party apps, but they always lack certain features. The size of the Note made Social Networking a pleasant experience, especially when pictures were involved.
The day started to draw to an end, I went to get my bike, took out the Note to load up Endomondo again, explained to a guy lurking around the bike shed what the huge white thing was and then set off home.
Nothing of any interest happened with the Note in the evening.
Day 2
Took the Note off charge and went for a walk. Got back and decided I would watch a bit of TV that Sky+ had decided to not record for me. I would normally dig out the laptop to watch iPlayer. As Windows Phone doesn't support iPlayer in any way, shape or form and it sounds like it may never either. Also as iPlayer is quite buggy on my Transformer Prime running Ice Cream Sandwich using the laptop is normally the most stress free way. I quickly installed the iPlayer app on my Note turned wifi on and set about watching some missed tv. It was quite a simple and stress free experience. The large screen was pleasant to watch video on, especially as iPlayer on a large screen like a laptop or tv can be a little pixelated.
The rest of day was spent trying out the Galaxy Note special features. Mainly revolving around the S-Pen. If you press the S-Pen button and tap the screen it takes a screenshot. This proved handy for an article about the upcoming Nexus 7 Tablet. Shame WordPress reduced the quality upon uploading. I have also been using the pen to select text from web pages to use as quotes as well, the pen is proving to be pretty handy, although this takes quite a bit of getting used to. Annotating pictures with the pen proved to be briefly amusing.
This evening I spent a bit of time using the Instagram app. The Note has a decent camera and large high resolution screen make ideal companions for Instagram. I found myself following a lot of people this evening. Just to get a look a wide variety of pictures.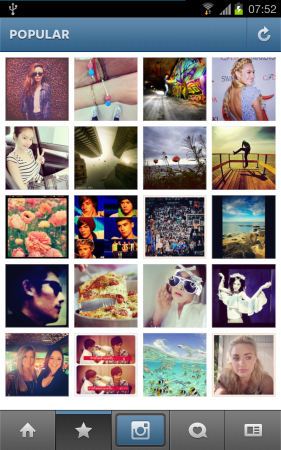 Today the Note made it from 5am to about 10pm without being charged. It was used a lot today. A lot of Twitter, Music, Video, Emails and Phone Calls. I was really surprised that it lasted all day. There are even big extended batteries that would possibly last me two days, very tempting to get one.
Day 3
Nothing too exciting planned for today. I am starting to miss my Lumia. The intuitive people hub, the gorgeous email app and the fact that the new Lumia 900 was just released didn't help my emotions. Just for a laugh I thought I would check out the Windows Phone 7 launchers for Android. I covered Launcher 7 a while ago. It basically gives you a Windows Phone style interface for your homescreen. There are also apps for your Contacts, Messaging, Notifications, Calculator and the Email app. Once I had these installed I realised three things. Firstly that you can't beat the real thing, secondly a huge Windows Phone would be great and lastly that some Android developers are really skilled people.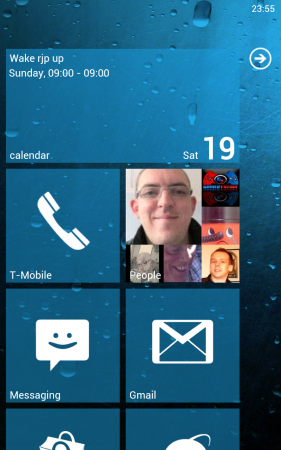 This morning we had Scott at the Orange San Diego event so I spent a bit of time keep up with the event on Twitter and afterwards downloading press releases etc. This was all surprisingly easy. For things like this I use Dolphin Browser as the desktop mode works really well. To also make life easier I took a Rii mini bluetooth keyboard with me. It is a compact keyboard with a small trackpad. Sometimes navigating a desktop website is a lot easier with a mouse.
Nothing too eventful happened for the rest of the day just the usual heavy use of the device. I should be getting the Samsung HDMI out cable in the next day or two so I will have some things to test with that.
Day 4
Today should be a good day if the HDMI cable arrives (it didn't). Before work today I had to email some holiday pictures to a relation, I knew this was achievable with the Note so I connected to WIFI, dug out the USB Gender changer cable I have, found my small usb card reader and set about emailing the pictures. The cable works exactly how would expect. I got the pictures emailed off a lot quicker than if I had sat waiting for my laptop to boot.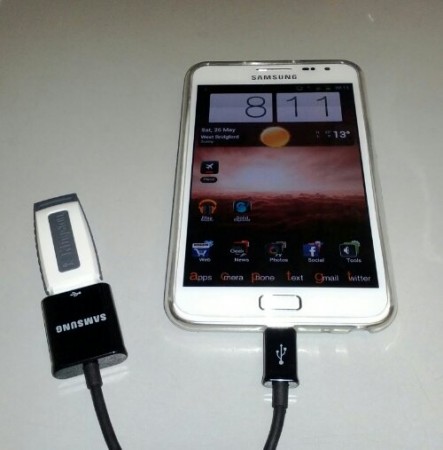 I decided I didn't like the Samsung Lockscreen so I installed Widgetlocker, it allows you to make your own Lockscreen from a selection of themes. There are hundreds more online as well. I went with a Sense 3 style and added six shortcuts to it. I can now access things a lot quicker now. I also installed ADW EX which is an alternative Launcher. Again there are hundreds of themes available, it let me customise my Homescreen a lot more than TouchWiz did. I mainly installed it for ICS style folders.
Speaking of ICS, today Samsung released the Ice Cream Sandwich for the UK versions of the Note. As usual with Samsung this is done through the Kies software. It crashes lots, conflicts with the huge variety of Android drivers I have on my laptop. I was at work so I faced a long wait before I could get home to update.
Once I was home I set about updating and after trying to update for several hours it finally got the job done. The Note is now really useful. Having access to ICS only apps like Chrome really made the experience a lot better. Samsung also seem to have fixed the bug effecting selecting text with the S-Pen which is nice. The new updated TouchWiz soon got replaced with another launcher, it just isn't for me.
Day 5
Today is Saturday and I am going to test out if the Note is too big for a night in town. I have a quick stint at work in the morning and then a drive for a few hours and then it is party time. My trousers for the night out had to be pre-checked to see if the Note fitted.
We were going to see a friend and his band play in Sheffield. As we neared Sheffield I handed the Note to my wife who loaded up Google Maps entered the postcode for the car park and we were sorted. The Note is ideal as a Sat Nav. The size and connectivity make it an ideal device, we could have done with a dock for it. That will be the next accessory purchased for it I think.
One good thing about the Note is the storage space, having a micro sd card meant I could take photos and videos without any worries about space. The Note did an admirable job at capturing some photos and a bit of video of the band.
If you are a skinny jeans type of person then you are going to struggle on a night out. I wore "normal" jeans and I just about ok. The only slight problem I can see with using the Note on a night out is that people will notice you have a large phone and you may attract pickpockets.
Day 6
Woke in the hotel on Sunday morning and instantly thought of McDonald's breakfast. Being in a strange town I had no idea where to go. The Note came to the rescue, a quick Google search and had found the nearest one and I quickly set of into Sheffield to find us some breakfast. On the way to McDonald's though we went in Weatherspoons instead, 10am and twelve people had a pint.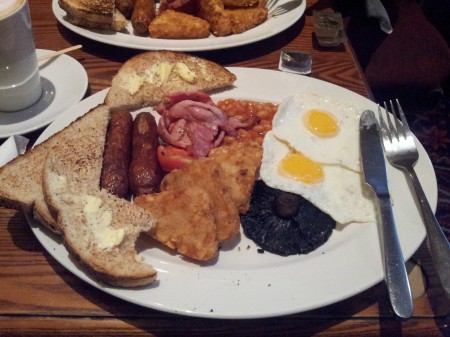 The drive home again involved some Sat Nav action again. We REALLY need a car dock for the Note. MY wife got quite sick of holding it up to the windscreen for several hours.
Day 7
Bank Holiday Monday. DIY day. No I am not going to try and hammer any nails into bits of wood with the Note. What I did try out though was the HDMI out cable that eventually turned up. It does need to be plugged into the power, but I'm ok with that iPlayer was disappointing as the high quality mode on my 37″ tv was almost unwatchable yet the high quality mode on YouTube was perfect. The HDMI out cable would be ideal for showing pictures or videos on your tv. All the wires make games a little awkward and having to use on screen controls make it even harder. This will be added to the big bag of cables and accessories that get used now and again.
Conclusion
I really enjoyed using the Note, I don't feel like it is too big, other phones feel too small now. The only time I feel it is a little large is when I make a call. Holding it to my head I become aware of how big it is. The other great thing about the Note is the battery. I love the fact it can go from 5am to 10pm with fairly heavy use. Admittedly this doesn't involve a huge amount of video or music, it's mainly Emails, Texts and Twitter.
I will be glad to get back to my two phone setup, the shortcomings with the Note mainly come down to the software. Not the Samsung software either, it is the core Android software, things like the Android Contacts which when compared to the Windows Phone People Hub you are left wondering what Google are playing at.
So I will be using the Note for Social Media, News, Multi Media and Games and will be using my Lumia for my Contacts, Calendar, Emails and general phone stuff.
So if you are looking for a new phone and for some reason the Samsung Galaxy S3 isn't for you take a look at the slightly cheaper, slightly bigger Samsung Galaxy Note. Although you have to shout at Kies on your pc for a while to make it update to Ice Cream Sandwich.
One last thing. If you are likely to want to root your Galaxy Note and play about with customs roms, beware, there is a bug in the latest ICS updates from Samsung that can brick your device if you start playing with customs roms. So read up first if you are going to delve in.