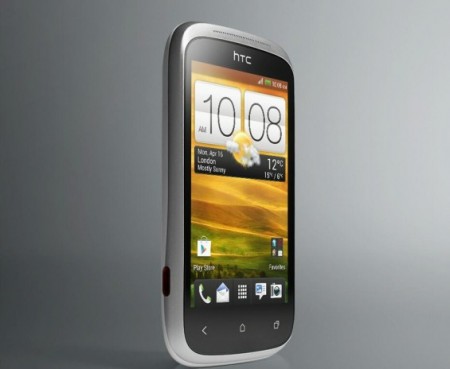 Everyone is pretty skint at the moment so, although we weren't expecting it, the Desire C is pretty good value. You can pick one up on Pay As You Go with Three for £149.99. Their "All in One 15″ package costs £15 and gives 30-day access to all-you-can-eat data plus there's 300 any-network minutes and 3,000 texts
For your money you'll get 25GB of Dropbox storage for 2 years, Beats Audio technology, a 600 MHz CPU and 5 megapixel camera. The Desire C also has microSD expansion, a 320×480 pixel 3.5" screen, WiFi, Bluetooth 4.0, GPS, FM Radio, NFC and is powered by Ice Cream Sandwich.
You can get more details in our earler story.
Link – Three
HTC Desire C – available now on Three.

The HTC Desire C is now available online at www.three.co.uk and in all Three stores.

The new smartphone combines all-round performance and the latest technology at an affordable price. With features to make everyday tasks easier and more enjoyable, the HTC Desire C has a five megapixel camera to capture special moments, a large 3.5" screen for viewing the latest YouTube clips and a 600MHz single-core processor for seamless internet browsing and switching between apps.

Plus, with built-in Beats Audio™ technology, the HTC Desire C provides the best, most authentic music quality straight out of the box.

Sylvia Chind, head of handsets at Three said, "The HTC Desire C is a great all-rounder with a really powerful battery life, meaning that people can stream videos and music to their heart's content over Three's fast network."

The HTC Desire C is available from £13 a month with no upfront cost on the Ultimate Internet 100 plan. Both the Essential Internet and Ultimate Internet plans offer a fear-free mobile internet experience, with a guarantee of no surprise out-of-bundle data charges.

The smartphone is also available on Pay As You Go for £149.99 All in One 15 costs £15 and gives 30-day access to all-you-can-eat data along with 300 any-network minutes and 3,000 texts. Or All in One 25 costs £25 and offers 500 minutes, 3,000 texts and All-You-Can-Eat data for a 30-day period.

Key features:
• Beats Audio™ technology
• 25GB online storage with Dropbox (free for 24 months)
• Android 4.0 (Ice Cream Sandwich)
• 4GB internal memory
• 600MHz single-core processor
• 5 megapixel camera