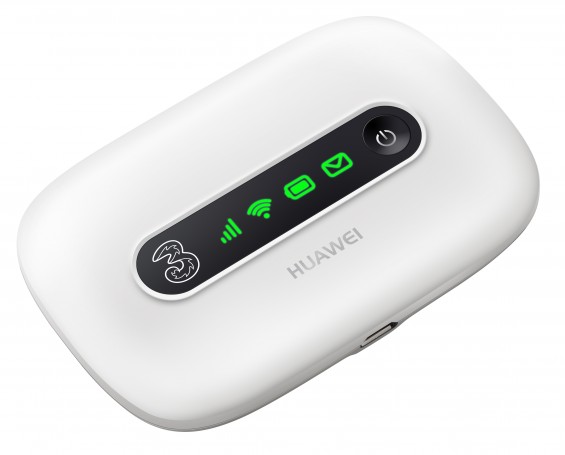 My nan wants to get online so that she can email her daughters. It's a simple request and she already has a laptop, but she doesn't want any "messing" with her phone line and she takes the laptop wherever she goes. This could be my solution. The new Huawei E5331 MiFi will grab a data connection via a Three SIM and pump out a secure and completely configurable WiFi hotspot for you to connect to.
It's dubbed a "value MiFi" device because you can now pick one up for just £29.99 and then hook into a one-month rolling contract at £15.99 per month for 5 GB of data. Either that, or you can pay £49.99 on Pay As You Go with 1GB of data.
It has 4.5 hours battery life and a simple one-button connection plus there's an LED display to let you know what's going on.
Link – Three
Huawei E5331 Value MiFi – available now on Three.

From today, Three customers can get their hands on a new value-model MiFi on pay as you go or contract from all Three stores or online at Three.co.uk.

The Huawei E5331 Value MiFi offers affordable fast, secure Wi-Fi access, for up to 5 of your Wi-Fi gadgets at once, making it the perfect accompaniment to tablets, laptops and handheld gaming consoles wherever you are so you don't need to rely on public hotspots or expensive coffee shops to get online. Fast and secure just for you; no waiting and no need to share unless you want to.

Mark Brewer, Head of Mobile Broadband Devices at Three said, "As the leading network operator in mobile broadband, we're delighted to be able to offer our customers a cheaper alternative to getting online, without having to compromise on speed."

Mark Mitchinson, Executive Vice President at Huawei Device UK & Ireland, said: "Huawei's family of mobile WiFi products are among the best kept secrets in the wider consumer market; gadgets which offer portable and personal WiFi connectivity that can be shared across multiple devices and people. The Huawei E5331 Value MiFi brings these benefits to a much wider market, supported by Three's exceptional 3G data network."

The Huawei E5331 Value MiFi is available for a one-off upfront cost of £29.99 on a one-month rolling contract at £15.99 per month for 5 GB of data or from £49.99 on Pay As You Go with 1GB of data.

Key features:
• LED screen with clear icon display
• One button connection
• Up to 21.1 Mbps technical standard Download (HSPA+)
• Up to 4.5 hours battery life