Don't you just love benchmarking apps and websites? They never fail to bring us glimpses of the future. This time round it is the rumoured Google Nexus Tablet. Have a look at this screenshot from Rightwave. It shows a device called a Nexus 7, from Asus running Android 4.1, a resolution of 768×1280 and a Nvidia Tegra 3 cpu/gpu.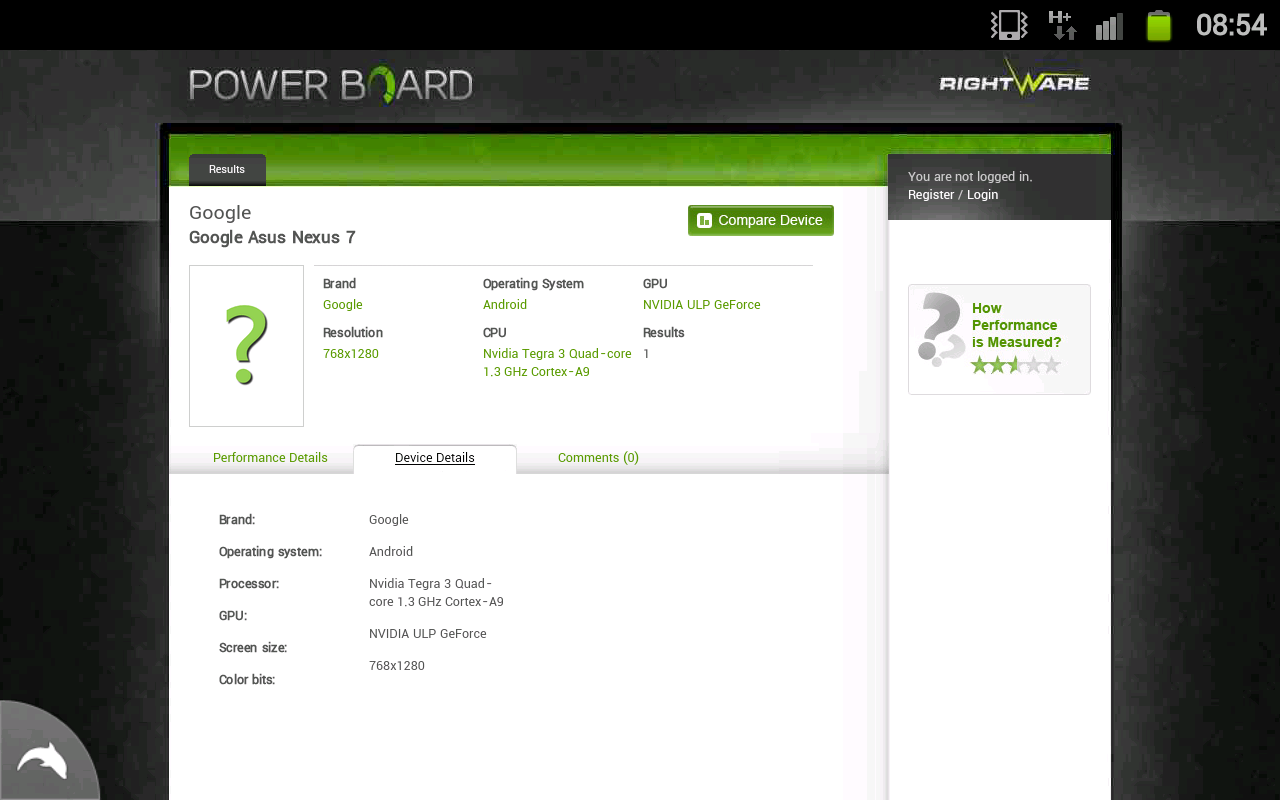 Of course these details could always be made up or faked. But normally these benchmark leaks are fairly close to the final result.
Android Headlines have also found further info on the device.
"os" "android"

"model": "Nexus 7″,

"hardware": "grouper",

"manufacturer": "asus",

"device": "grouper",

"brand": "google",

"display": "XXXXXX-userdebug 4.1 JRN51B 3XXXXX dev-keys",

"version_sdk": "4.1″,

"board": "grouper",

"version_code": "1″
The 7″ form factor has been a massive hit for Amazon in the US and Google obviously want a piece of that. The Amazon Fire uses Android but puts any purchases through Amazons own set of services and app store. Asus have mentioned in the last few weeks how they are working on making cheap Tegra 3 tablets. Lets just hope that the Nexus 7 is going to be one of these. I imagine if Google are planning to compete with the Amazon Fire that they are going to have to make it competitive. 
The Google IO event is coming up in July and it is rumoured that Google will be giving away these Nexus 7 tablets to attendees. So no doubt lots of them will appear on Ebay shortly after the event.
I really hope Google decide to sell these in the UK. They should do as the last few Nexus devices have been quite popular. About £200 would be ideal.
One thing that was also mentioned is that the Nexus 7 will come with Android 4.1. Whether or not this is the next version of Android i.e. "Jellybean" or not we don't know. We shall see in July.
Would you like a Nexus tablet then? No doubt the developer community will be excited about a Google experience tablet they can work their magic on.
Source – Rightwave
via – Android Headlines