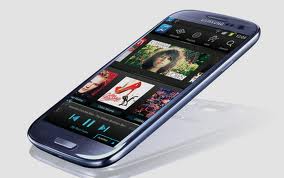 Samsung today announced the launch of Music Hub, their own version of Google Music, Spotify and iTunes.
Initially launching in the UK, Italy, Germany, France and Spain for the Galaxy SIII, Samsung claim that the new service integrates all your music experiences in one place, millions of songs, your own music stored in the Cloud, a music store and radio discovery.
With reported pre orders of over 9 million units, Samsung would appear to have a ready built market for their new service which is powered by mSpot, a leading mobile content service provider recently acquired by Samsung, the new Music Hub service will initially be available on the Samsung Galaxy S III and will soon be offered on a wider selection of devices.
The music hub service will have two offerings, a free version and a subscription version priced at £9.99 per month.
The free version offers a vast, 19 million song catalogue provided by 7digital, Music Hub Store enables you to buy songs and albums, as well as listen to 30-second previews of all songs. Purchased music is stored in the cloud and automatically appears on all of your devices, while music can also be stored locally on devices for offline listening while the premium version gives you the ability to upload and access your entire music collection anywhere, enjoy unlimited streaming from the millions of songs in the Music Hub catalogue and discover new songs with radio stations based on the artists you like.
Music Hub features include:

Scan & Match Cloud Locker: Upload your music to the cloud so you can play it anywhere. Music Hub utilises scan & match technology to decrease upload time and ensure high-quality playback. Any unmatched songs are directly uploaded from your library so you can access rare or personal recordings (100 GB of storage for all unmatched songs). When you edit playlists or purchase music, your collection stays automatically updated across all authorized devices.
Catalogue of millions of songs: Enjoy full access to our entire catalogue to stream or purchase, with unlimited plays and no advertisements. Search for new music, create playlists, share songs with friends, and view lyrics and album information.
Radio: Relax and listen to the music you like with personal radio and programmed stations. Create personal stations based on songs and artists you love, or browse genre stations recommended and tailor-crafted by the Music Hub team. Hear a song you like? Tag it so you can find it later and play it again whenever you want.
 Recommendations: Discover great new music all the time with customised recommendations for songs, artists, albums and radio stations. The more you listen, the better recommendations you'll get.
Optimised for Mobile: Music Hub is optimised specifically for your Samsung device. Advanced streaming and downloading options let you save storage space, play music when offline, and cut down on cellular data usage. Audio settings are designed to prolong battery life and ensure smooth streaming even under spotty network coverage.
Web Player: In addition to the mobile app, users can access their music library and the Music Hub catalogue/store online atwww.musichub.com. The Web Player allows users the freedom to play their music easily on any PC.