I have just lost half an hour of my life completely engrossed in iFoosball HD for the iPad.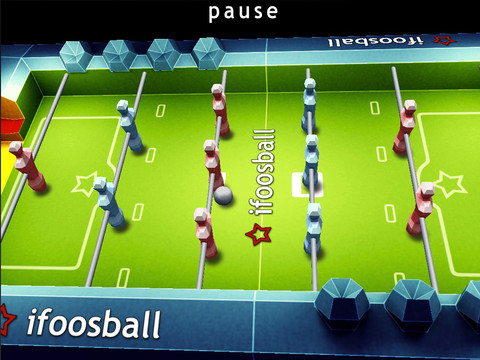 The game itself is takes me back to a happy place when I had time to spare on one hand, and a pint in the other, so there's an instant feel-good-factor here.
They have done a sterling job on the game play, I've managed to pull of some canny shots on goal off various walls and edges, just like I used to down the pub!
Quick list of the Features:-
Real 3D graphics
Moving camera effects
Game control by touch, tap and tilt.
Four levels of difficulty
Adjustable time limit and the number of goals to win the game
Selectable three or four rows of players
Player uniforms' color selection
Bonus Bullet-Time mode to steer the ball by tilting the device
Bonus Super-Ball mode where accelerated ball goes through the players
Horizontal and vertical layout!!! (I preferred to horizontal by the way, much easier to see up and down the field!)
Spin the players by flicking