Call it bad timing if you want, but this May is not really a good time to be releasing new phones. Regardless of this LG have pushed out the LG Optimus L7 which is a mid range device and it is now in stock Sim Free at various outlets. LG also have the 4X HD coming out soon which will be their flagship device. Whether both of these devices fail in the face of competition from Samsung and HTC remains to be seen.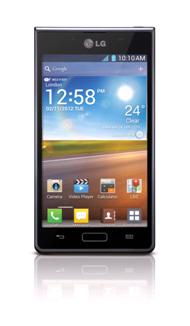 The LG Optimus L7 seems to be an ideal way to get a mid range large screened device running Ice Cream Sandwich. Currently it only costs about £240 which puts it in competition with the HTC One V but this has a bigger screen. Hopefully at some point soon we will get our hands on one to decide which we prefer.
The spec for the L7 is as follows:
Elegant minimalistic design
4.3" capacitive touch screen display
Android 4.0 (Ice Cream Sandwich)
5MP camera with LED Flash
Floating Mass Technology which enhances the slim design
NFC compatible
4GB Internal Memory
LG Optimus 2.0 UI Skin
1GHz MSM 7227A CPU
8.7mm thick
With the LG Optimus L7 you blend high-tech with an elegant minimalistic design. It utilizes Floating Mass Technology which creates the illusion that it is even slimmer than it is. This means that it appears exceptionally slim, as it has a thickness of just 8.7mm. LG has included the latest version of Android 4.0 (Ice Cream Sandwich) and there is a stunning 4.3" display. It additionally has a large capacity 1700mAh battery and intelligent power management, so you can keep going for longer.
The stunning 4.3" wide display provides outstanding viewing allowing text to be viewed full sized and web browsing to be an enjoyable experience. It enables images and videos to be viewed in greater detail with vibrant colours. Whether you are indoors or outdoors.
The latest Google Android 4.0 (Ice Cream Sandwich) brings the latest improvements and innovations to you're fingertips. This includes a refined user interface which makes multi-tasking easier and more productive. While the improved communication and sharing features mean that it is now easier to upload photos to social media sites and organise your life with a unified calendar.
The Optimus 2.0 user interface ensures that you have simple and quick access to your favourite apps and there are plenty already installed. While the home screen sections are uncluttered and appear to fade out as you move to the next. This results in a satisfying experience, but provides opportunity to installed additional apps and widgets on the home screen.
Additionally the LG Optimus L7 features NFC compatibility. Tags can be setup with one of three pre-defined configurations, or you can choose your own. There is DLNA connectivity and a 5 Mega Pixel camera which benefits from an LED flash to complete the features.
Do you fancy an LG Optimus L7? Are you saving the pennies for an HTC or are you one of the 9 million who have pre-ordered a Galaxy S3? Let us know in the comments or in the forum.