The Nokia Lumia 610 is another addition to the Lumia range. It is a lower spec than previous model, using a S1 processor clocked at 800mhz and it has 256mb of ram. It is really targetted at first time users of smartphones. The Lumia 610 was shown off at MWC earlier in the year and Nokia kept mentioning the NFC capabilies of the device. Clove make no mention of this, so whether it has been dropped or not remains to be seen.
Update – Clove have got in touch. This model does not have NFC. The NFC model are out later this year. Presumably when Windows Phone supports it. Nokia have added a video on their YouTube channel about the 610. Here it is.
http://www.youtube.com/watch?v=FlS4e7N-cjY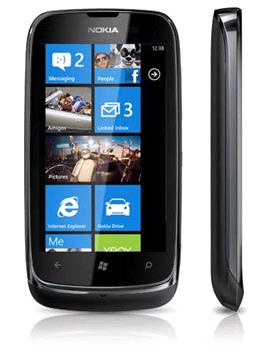 If you want a cheap Windows Phone you are really torn at the moment. You can choose from this or the Lumia 710 or even the discounted HTC Radar. Lots of choice at the entry level.
Clove now have the 610 in Black in stock with the Cyan one to follow shortly. Both at £180 inc vat. More details here.
Handtec also have the 610 in Black in stock as well for £175.19 inc vat. More details here.
The Lumia 610 is Nokia's latest addition to its Windows Phone range. It's sleek and comes in delicious colours, and it does everything you need in style. Personalise the colour of the Live Tiles to match your mood, download loads of apps and games, stay in touch any way you want, or add colourful accessories like covers and headphones to really make it yours.
The Nokia Lumia 610 makes staying in touch effortless. See updates instantly on the Live Tiles. Find everyone in one place with the People Hub – all your Facebook, LinkedIn, Twitter, and email contacts are there and easy to reach. And create Groups for friends and family, then pin them to the Start screen to see what everyone's up to.
Internet Explorer 9 makes mobile browsing fast. You can check the web for news, weather, fashion, sports, gossip, Wikipedia, and more. YouTube and streaming video is fast and smooth too. And whenever you want to search for something, Bing is just a touch away.
The Nokia Lumia 610 comes with great free extras. There's Nokia Drive for turn-by-turn navigation and Nokia Maps to find places nearby and around the world. There's Nokia Transport to show you bus, train, and metro stops, routes, and times. And there's App Highlights too, to keep you up-to-date with the newest and best apps and games.
For head bobbing, foot tapping fun take your music collection with you, tune in to FM Radio, or watch music videos on YouTube using the fast internet connection. If you need more action, there's Xbox LIVE and loads of games to download for free or to try and buy from Marketplace. And you can create an Xbox profile with a 3D avatar too
Features of Nokia Lumia 610
Windows Phone 7.5 Mango
3.7″ LCD Display
8GB Internal Storage
5MP Camera with Autofocus
Wi-Fi, Bluetooth, 3G
Nokia Drive
Nokia Public Transport