A few months ago we posted details of the Motorola Ice Cream Sandwich upgrade schedule. It showed some worrying dates for devices like the Motorola Xoom tablet with 3G which was still in the evaluation stages and the yet to be released Motoluxe shown as possibly getting ICS at some point in the future. Well this evening Motorola have updated the upgrade schedule in their support forums. Here is a snapshot of the new schedule.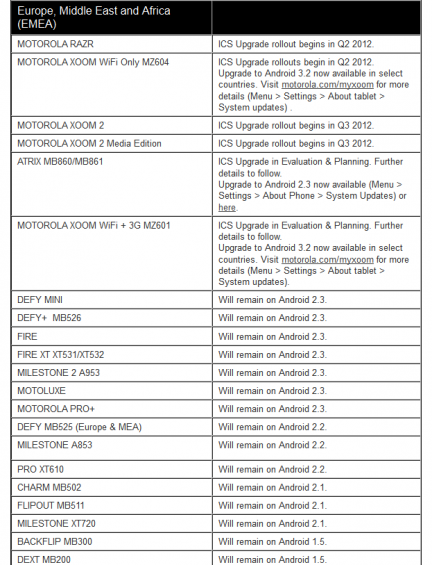 Lo and behold the Motoluxe will not be getting Ice Cream Sandwich after all. We recently reviewed the Motoluxe and the whole time whilst using it I kept thinking that it was ok because the ICS upgrade would fix it. Lets just watch the prices tumble now.
Another annoying thing about this upgrade list is the dismal treatment of the Motorola Xoom. Which was the original Google Experience Tablet and it still hasn't fully been upgraded. Although the 3g version is in testing in the US. If you want more info on this head over to the Motorola forum on the link below.
Source – Motorola Forum