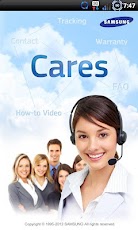 Hands up.  Come on, admit it.  You think that mobile phone manufacturers are after one thing and one thing only, your hard earned money.
Well, not Samsung.  No because Samsung Cares.
At least, that is the name of their newly released app.  The app, available on Google Play, offers the best of Samsung's caring and sharing, bringing you support on your very own android device.
You can get product support help, find FAQ's, how to guides, videos and troubleshooting guides,
According to Samsung it also brings support on the go along with seamless navigation for online support and service tracking information for your product.
If for some reason you can't find the answer you're looking for or need additional help you can connect with Samsung at any time through Facebook, Twitter, or Live Chat simply by using the contact options.
So, really, Samsung does care and wants you to download this app to see just how much.