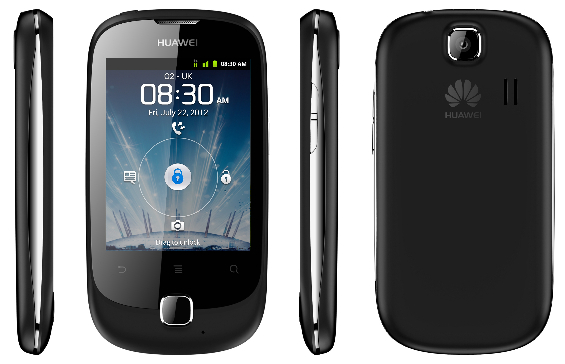 O2 have announced the exclusive carriage of the new Huawei Y100 Android handset.
The Y100 has a  2.8 "LCD screen,  a 3.2MP camera without flash, WiFi, Bluetooth 2.1 and GPS.  Running Android 2.3 Gingerbread, the handset has full access to Google play and all the compatible apps therein.
Huawei claim that they have the most user-friendly entry-level smartphones on the market which could be something to do with the fact that you can load apps from the unlock screen and don't have to use the Android homescreens each time you want to access a particular app.
The Huawei Y100 will be available for the miserly sum of £80, and they're also launching the G 7105 feature-phone.
Are you planning to buy the Y100? Let us know over on our forums!
Huawei and Telefónica O2 strike first UK smartphone agreement

Landmark deal for Huawei as O2 in the UK launches its Ascend Y 100 smartphone

Description: cid:[email protected]

[Basingstoke, UK, May 10, 2012] Huawei, a global telecoms leader in smart technology, is to launch two devices, the Ascend Y 100 and the G 7105, exclusively with Telefónica O2 UK. The Ascend Y 100 is the latest in Huawei's expanding family of Ascend smartphones, and represents the first Huawei-branded smartphone with Telefónica O2 UK.

The Ascend Y 100 expands Huawei's emerging smartphone portfolio and cements its claim to the most user-friendly entry-level smartphones on the market. Its launch is attended by availability of the G 7105 feature phone with O2 in the UK also, and precedes further Ascend-family devices in 2012, as well as the full brand debut later this summer.

Huawei UK Executive Vice President Mark Mitchinson said: "We are delighted O2 UK is backing Huawei's emerging portfolio and brand with launch of the Huawei Ascend Y 100. The Ascend Y 100 puts easy usability at the very heart of the experience with its unique interface, and makes the transition to smartphones less daunting and more enjoyable. The G 7105 affords astonishing value and functionality in a stylish feature phone."

Telefónica O2 UK General Manager of Devices David Johnson said: "We're really pleased to be working with Huawei to bring Android to a whole new audience. The Ascend Y 100 packs in everything Android has to offer, as well as a simple interface and slim design, at a lower than ever price point. The G 7105 meanwhile is also simple, easy to use and easy on the pocket. We look forward to working more with Huawei in the future."

The Huawei G 7105 will be available from May 11 at £39.99 in white. A pink variant is also to be available through selected O2 channels. The Huawei Ascend Y 100 will be available in black from June 1 at £79.99, or free on a £10 per month contract. In addition, O2 customers can personalise their Huawei Ascend Y 100 with a free customisable back cover worth £19.99.

Ascend Y 100

The Ascend Y 100 features Huawei's unique easy-to-use interface, which enables one-step access to dedicated applications from the unlock screen, including call-screen, messaging and camera. At just 10.9mm, it offers all the functionality and excitement of Android in a slim and stylish design. It runs the Android 'Gingerbread' 2.3 operating system, offering great Android services like Navigation, Places and Voice Search plus laptop tethering and access to over 400,000 apps via the Google Play store.

The Ascend Y 100 boasts a 2 megapixel camera with 4x digital zoom, which shoots video at 30 frames per second (double the speed of other entry level smartphones). In addition, the Ascend Y 100 offers fast mobile internet (up to 7.2 Mbps) and fast Wi-Fi 'n' for swift rendering of web pages and social networking sites. Its bright 2.8-inch touchscreen makes viewing clear and enjoyable.

Until August 31, customers buying the Ascend Y 100 from O2's retail channels can get a free customised back cover, making their experience even more personal. A voucher will be provided at point of purchase, enabling customers to design a cover using their own images, or by choosing from a selection of ready-made designs.

G 7105

The G 7105 is a simple and compact feature phone at just 12mm and 104 grams. Following on from its predecessor, the G 7010, the device features a distinctive s-shape band and a full 2.8-inch LCD touchscreen.

This inexpensive device offers a capable 1.3 megapixel camera with 4x digital zoom, supporting a picture resolution of up to 1280 × 960 pixels, to capture special moments on the move. Its multimedia player is compatible with all main audio and video formats with a standard 3.5mm headphone jack and an expandable storage of up to 4GB. It supports Bluetooth and USB 2.0 connectivity and the Opera Mini Internet browser. Typically, you'll get 600 hours of standby time and 300 minutes of talk-time from a full charge.

For further details, please visit www.o2.co.uk.