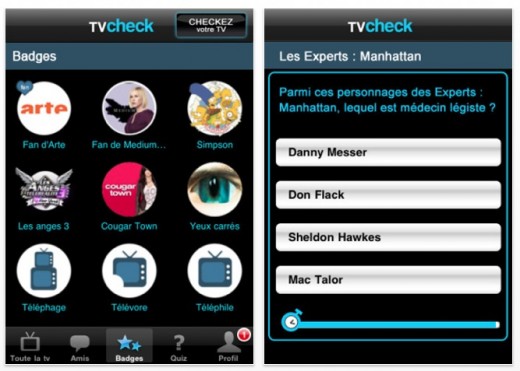 Having launched in France last year, Orange is about to make a foray into the UK social tv market with the launch of TVcheck.
In a press release today Orange said that the TVcheck app enhances your live TV watching experience by allowing you to check in to your favourite programmes and connect with friends to create a fun, social TV experience, and that once checked in you can unlock games, earn badges and chat about your favourite TV programmes with friends on social networks.  The app uses your phones camera to recognise the TV programme and checks you in automatically.
Orange revealed more details, stating that the app will work with 25 free to air channels including BBC, ITV, Channel 4 and Channel 5.  The app will also work on all networks.
Orange say
One of TVcheck's amazing features is its unique live TV image recognition technology.  During any programme on a compatible channel, you simply point your phone at the television screen. The app then quickly and cleverly recognises the television programme and registers that you have 'checked in' to the programme.

Once you have checked in to a TV show you can make use of the app's other simple features.  You can participate in live quizzes, earn badges or challenge other viewers to become 'top dog' of a specific programme or channel. Additionally, the app provides a seamless connection to social media websites such as Facebook and Twitter allowing you to chat and send messages about your favourite programmes while watching TV. Customers will soon also have access to other treats such as unseen footage from their favourite shows.
The app is currently only available for iOS but a release for Android is planned at "some time in the future".