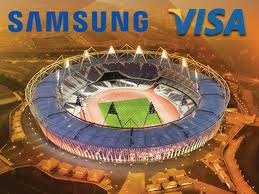 Once upon a time the Olympics were about the best athletes in the world competing against each other to ascertain who really was the greatest.
Now it seems that the Olympics are as much about buzzwords such as "partnership", "inclusion", "equality" or "legacy".  
We can now also add technology to the list of things that the olympics are promoting as it has been announced that the Samsung Galaxy SIII is the Official phone of the 2012 London Olympic Games.
The limited edition handset will not be available on general release, however, it will be given to selected sponsored athletes although which ones has not been revealed.
The main purpose of the giveaway is to promote the NFC technology onboard and to this end Lloyds TSB, Visa and Sumsung have teamed up in order to promote Paywave, Visa's wireless payment system.
The athletes will be able to use payWave at various outlets in the Olympic Village, purchase items from around 140,000 stores outfitted with the necessary terminals and even pay for taxis.
Tapping the SIII against a payment terminal will pay for any items up to a value of £20 although any higher value items will require a passcode.  How the system is funded or accounts are topped up is as yet undisclosed.
The Samsung Galaxy SIII is to be released in the UK  on May 29, with a release for the US scheduled for the summer.
via: Digital Trends