Here we have a new entry into the market of audio accessories for mobiles and tablets. It comes in the form of a small cylinder about half the size of a drinks can, but with enough power to blow your socks off.
So what is this almighty cylinder I hear you ask?
Well dear reader, this is the new Bluetooth speaker from a company called Damson Audio. The product was released at the Gadget Show Live and I nearly missed their stand as I walked through the throngs of people. Fortunately the deep thumping bass that was emitting from one of their speakers drew me closer.
I am so glad that I took the time to investigate this. It's an amazing piece of kit and is well worth its asking price of £79.99 in my opinion. So what makes it so great? I just cannot get over the sound of this speaker when it's mated with another flat surface. The way it works is unlike any other speaker I have seen up to now. The actual inner workings, for those who are more technically inclined than myself, can be found on their website, but to put it simply it's a resonance speaker. What this means is that it emits a high frequency which is then amplified by whatever surface you place it on, instantly turning that surface into the speaker. It means that a high volume is achievable with a small object. I have not done a decibel measurement but it is more that enough to fill a small room with ease. I have actually been using it instead of my JBL speakers at home.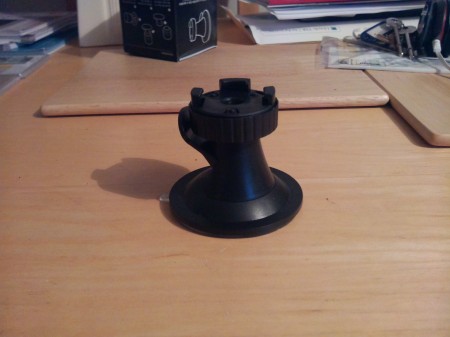 One thing that instantly appealed was the design of the speaker. It's beautiful and draws amourous gazes from people when you use it in public. Another great feature is that, via the purchase of a additional bracket, this can be fixed to any smooth hard surface such as glass, metal etc. So if you are away on business then you'll be able to affix it to the window in your hotel room and start pumping out the tunes.
Another trick, thanks to the Bluetooth capabilities, is the fact that you can use it with a mobile phone as a speaker for music and sat nav in the car. The one downside is that it does not include a mic. This is fine though as this has not been designed to replace your hands free speaker kit.
In summary if you are a fan of brilliant design, great sound and travel-friendly items then this is speaker for you. I have already got a queue of prospective buyers lined up and I am one of them.
The Cisor BT5 is available from Amazon.co.uk for £79.99
Link – Damson Audio