Do you have an O2 Joggler? Well if you do you will be interested to know that O2 are about to release a final update for it.
What is an O2 Joggler I here you ask, well The O2 Joggler is a 7" Touchscreen mains powered device which was sold by O2 in the United Kingdom. The Joggler's main selling point was its shared calendar application and was aimed at organising family life. It was marketed under the slogan "Your new fridge door". The Joggler became popular because of some huge price drops by O2.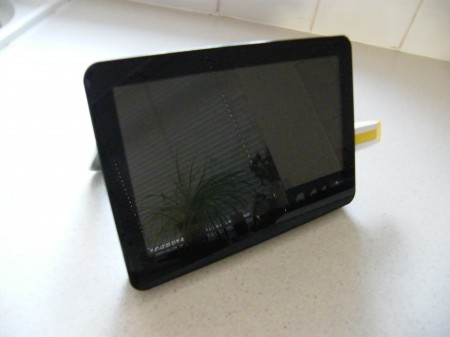 It soon became apparent that you could load custom software on the Joggler. Versions of various Linux distributions became available along with Android. I even made a version of Android for it at one point. Now though the most recent popular roms have been Ice Cream Sandwich roms.
Recenlty O2 decided that they did not want to support the Joggler anymore and the integrated O2 messaging and calendar reminders had to go. So they announced that they would be sending out an update to wipe all the useful stuff from the Joggler. No longer will you be able to get sms reminders sent to your entire family.
Here is the info from the O2 support pages.
What's happening to the O2 Joggler?
We are updating the Joggler between 30th April and 4th May with a new, larger set of apps and new look. You'll now get great services like YouTube, Facebook, Google Maps, and many more. At the same time, we'll be removing the O2 apps.
We are doing this so that we can focus on bring new, more innovative services to market.
What happens to apps currently on the Joggler device?
You'll still have loads of apps available after the update, however all O2 provided apps including Calendar, Messaging, Sky, Traffic Master & Pure Radio will be removed. In most cases, you should be able to find alternatives to most of the O2 services once your device is updated. 
What's happening to the O2 Joggler Messaging App?
It will be removed when the device is updated. We recommend that you forward any messages you may want to keep, and try using one of the new apps once your update is complete. 
What's happening to the O2 Family Calendar App?
It will be removed when the device is updated. However, Google Calendar will be available which we recommend as an alternative.
We'll give you plenty of time to start using a new service, but we won't be able to offer you your O2 Family Calendar data back.
What if I have a problem with my Joggler? 
After your device has been updated, O2 will no longer be offering full technical support. However, you can consult the FAQs if you have questions and we will also do our best to help out. 
What happens to my Joggler during the re-fresh? 
Between 30th April and 4th May, your Joggler will go through a reboot which should take around 5 minutes. After this is complete, you'll have a new look and more apps to use. 
How do i reset my alarm after the update?
From the main screen press the "Alarm" button.
Drag the slider to set the volume
Select your ring tone
Select Alarm 1 or 2
Set the desired time
I don't like the new software. Is there an alternative?
Yes, it's possible to load new software on your Joggler, but we only recommend that only the most technically advanced users do this. If you have no idea what Ubuntu, FTP, or VNC means, then this probably isn't for you.
Visit http://www.jogglerwiki.com to see what you can do. O2 does not take any responsibility for problems caused if you chose to modify your Joggler.
What will the Joggler look like after the update?
We will have some great new apps installed.
Apps after Re-flash:
Facebook
Flickr
Weather
USAToday
YouTube
Photos
Music
Videos
Alarm clock
Google calendar
Google maps
Notepad
Calculator
Settings
Games
Bricks hex
Bobo snake
Ball lines
Blind spot
Double bubble
Dress up
Eye sight
Tortoise and Hare
Letter blocks
Mahjongg
Mancala
Matchsticks
Memory
Mousetrap
Peg
Pool
Scene memory
Suspect
What's happening to the O2 Family Calendar? 
Since we launched the O2 Family Calendar three years ago, things have moved on. In order to focus on bringing new tariffs and services to market, we have decided to close this service on 31st May.
We recommend that you start using an alternative Calendar service like Google Calendar. 
So that's enough support info. If you want to read up on custom software head over to Jogglerwiki forum for help with the update and help. At the moment people are looking at what apps can be restored, such as the radio app which will be removed. The radio was a pretty vital part of my use.
so do you still have one? Has yours updated already? Have you fixed it already?
Sources – O2 Support – JogglerWiki – JogglerWiki Forum