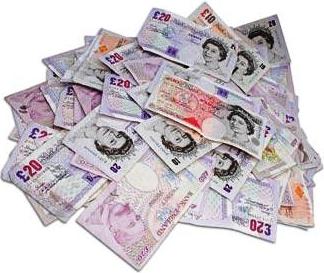 Banks, we may not like them, we may not want them but unfortunately, we all need them! In this recession hit world many of us work strange hours and find that a visit to the bank during the week is certainly inconvenient if not nearly impossible .
Most if not all of us have at least one bank account, and most if not all of us have at least one smartphone, marry the two together and theoretically at least you have an ideal partnership.  Banking on the move in an increasingly time concious society.
BUT, it's not that simple.  The thorny issues of security once again raises its head.  It's all very well to sit on your home computer, with its anti-virus and firewall protection (hopefully) but how many of you have the same installed on your mobile?  The products are out there but let's be honest, how many of us have them?
So, on that basis, here it is, Coolsmartphone's guide to the big banks Android mobile banking apps.
Barclays

Barclays does not have a smartphone app for its current accounts.  It does however have a website specifically designed for banking on the move at http://www.barclays.mobi/  but don't worry, this leads you to a secure login portal.
This is a browser based service that has the same features as the full Barclays website but in a handy mobile friendly format.
The site is accessed using your normal PINSentry although this annoyance is due to change with the addition of a memorable code and password due to replace this imminently for mobile banking, giving you the option of which login you would prefer.
All of the usual features are available including the ability to check balances, transfer money between accounts, make payments and view mini-statements.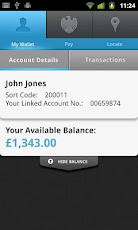 Barclays do also offer their Pingit app which enables you to send up to £300 per day to friends, family and small businesses.  In order to use this you must  be over 16 years of age and securely link your UK mobile phone number to your UK current account.
The app is free to download and use, payments are secure and it takes seconds for money to arrive.
If you don't bank with Barclays, when you register you will be will set up a with Barclays Pingit Wallet account on the app for you to use to send money. You can top-up the Barclays Pingit Wallet account by transferring money to it from your UK current account, paying in cash at a Barclays branch or by using any UK Barclays ATM.
HSBC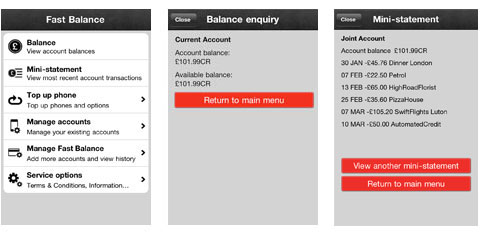 HSBC have now released their Android Fast Balance app where you can check your balance, view a mini-statement or top-up a pre paid mobile phone.  Security for this app involves entering your mobile number and account details, entering the debit card number of the account you want to link to the app, entering the activation code that is sent to your phone and creating a passcode, all this is done from within the app.
HSBC also have a site designed for mobiles, although this is simply a landing page which gives you a view of all of your accounts in an easy to read mobile format.  You can then switch to a traditional desktop view from here where all the options available to you on your desktop pc are accessible.
The HSBC site is accessed using the same secure key generator that you use to access the desktop version and this means that you have to carry the little calculator like device with you wherever you go, obviously this inconvenience will disappear when the full HSBC app is launched.
Lloyds TSB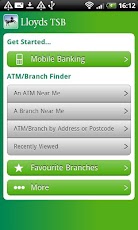 Unlike the first two, Lloyds TSB does have a dedicated mobile app that enables you to view account details, including the balance on most of your Lloyds TSB personal accounts, see a history of transactions on your personal current and savings accounts, ISA accounts and credit card accounts, make payments to new and existing recipients, transfer funds between your personal current accounts and savings accounts and check your credit card limit.
You will already need to be registered for internet banking and you then logon using your usual login details.  This app seems to be a marmite app with users either loving it or hating it based on the reviews on Google Play.
Once again, you can switch from mobile view to full desktop view from the app but you do need to be running at least Android version 2.2 to use it.
Natwest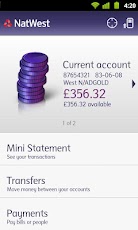 Natwest seem to be the most committed of all the major banks to mobile banking with an app that looks good, is full of features and appears to have security as a top priority.
Natwest's app enables you to make payments direct from your phone to your credit card, utility bills, friends or family however you do need to set up and make your first payment in Online Banking beforehand.  You can also check your balance and recent transactions for all your NatWest accounts, transfer funds between your accounts, find your nearest cash machine or local branch and top up your pay as you go mobile phone and up to four others  although this service is not available on the 3 network.
In order to use the app you need to be registered as an online banking customer, you sign up using your banking customer number, your debit card number and a couple of personal details, Your details will then be verified and you recieve a text message within 24 hours.
A sign of how seriously Natwest are taking security lies in the emphasis placed within the description for the app on Google Play which reads:-
You are covered by our online and mobile security promise, which is our commitment to you in the event of fraud
– You complete a simple and secure registration process which validates your details before you can use the service. The registration process is certified by Verisign, the global name in secure e-commerce
– Access is password protected. Your passcode is uniquely linked to the mobile banking application on your device. This means only your passcode works on your application.
– We use sophisticated encryption technology for secure data transfer to and from your mobile device
Once again, you need to be over 16 to use this app as well as having a mobile number beginning with 07 (are there any that don't??)
The Natwest app is very highly rated on the Play store with over 1100 5 star reviews.
So there you go, a quick guide to all the major banks mobile offerings.  Of course there are far bigger criteria upon which to base your choice of bank but in the days of always connected smartphones where time is always an issue whether or not a bank has paid time and effort into developing a suitably app that is fit for purpose could certainly be a contributing factor worth considering.