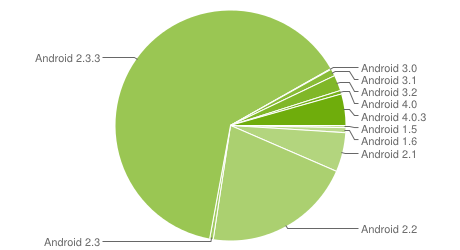 The latest figures released by Google on the Android Developers site have shown a sharp increase in the number of devices that have Ice Cream Sandwich using Google Play.
It has been revealed that ICS (Android version 4.0.x) now accounts for 4.9% of all devices, an increase powered by the release of the HTC One X and the rollout of ICS on the Samsung Galaxy SII.
Gingerbread (Version 2.3.x) shows a slight increase of 0.7% to 64.4%, a figure that would be expected to fall in the near future as more updates are released and manufacturers start launching phones pre-loaded with ICS.
The rest of the market is made up by devices powered by the older versions of Android the most notable of which is Froyo (2.2) that stands at 20.9% share.
It will be interesting to monitor these figures in the upcoming weeks to see just how quickly the usage figures for ICS rise and we will of course bring you the updated figures as they are published – in the meantime, why not head over to our forums.