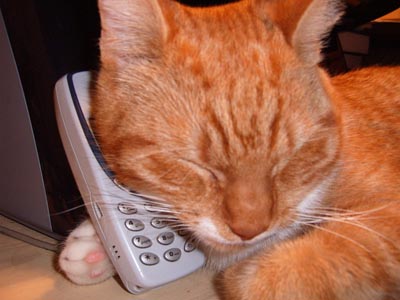 Go on, admit it.  You have often sat at work, gazed into space and thought "I wish my Tiddles would just ring me."  Own up, how many times a day do you check your phone just to see if you have a missed call from Rover?
Well, the answer is here.  Dutch telecoms provider Simpel is from May 7th offering a very special deal especially aimed at your pets that contains a handset, 25 minutes of talktime per month and even includes some data, all for the bargain price of 2.50 euros per month.
The marketing manager of Simpel, Brigitte Hop says "This is no joke, surveys show that owners miss their pets when on vacation, they like to stay in touch and it appears some animals learn the act of calling"
Apparently the system has been fully tested and other than a far east manufacturer no details of any handset have been revealed, it is however known that touchscreens do not respond to wet noses and therefore 4 large buttons are provided, each with a picture of one or more owners.
So if you are missing moggy or pining for pooch, be miserable no more for the answer is available from Simpel.
via: besteproduct.nl
To discuss this or any other smartphone related issue, hop on over to our forums.