With Samsung having an event in London on the 3rd of May, the Samsung Galaxy S3 is hot news around the internet, and demand for more information and finding leaks is now rivaling what Apple have seen on the iPhone product.
We posted recently the news that Vodafone are going to be stocking the new device, and now O2 have come out and made public they will also. of course this was pretty obvious as we expect every major network to stock it but for now at least we can check O2 and Vodafone off on the list to stock it.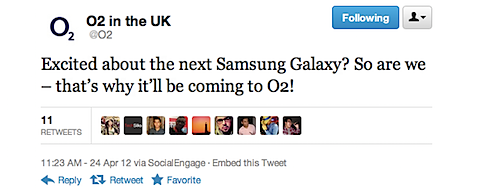 Samsung are being VERY tight on information and so far although we have seen some hints there is no confirmed specifications out in the open yet.
Check back on the 3rd May for the official announcement from Samsung where we will have more information to share.
Link: O2 Twitter