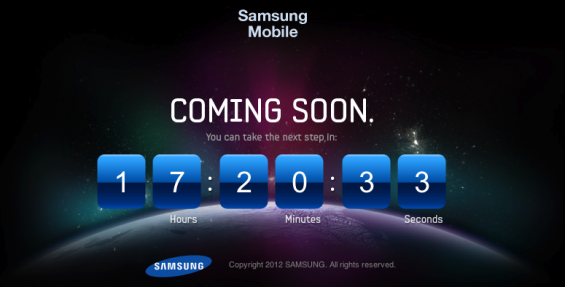 You've got to give it to Samsung. Outside of Apple's iDevices, I'm struggling to think of another gadget  that's as hotly anticipated as the Galaxy S3. Samsung have been playing things very cool and have somehow managed to keep anything from leaking up to this point. And now they're stoking the fires by slowly releasing little details.
Following on from the announcement of the special event on May 3, they've now launched a teaser website with a countdown. There's only actually 18 hours left on the clock so who knows what will be revealed at midday tomorrow.
Whatever it is, come back here tomorrow for more details.
Update – The site has collapsed under the load but we're now seeing a brief message saying "You've got it all mixed up". The actual destination, we're guessing, is thenextgalaxy.com – an anagram of the link below. Unfortunately this has also fell down due to the amount of traffic.
A couple of teaser videos are now online !
http://www.youtube.com/watch?v=8NnVU8R6mAU&feature=youtube_gdata_player
http://www.youtube.com/watch?v=FdNMO-zm1ls&feature=youtube_gdata_player
Link – tgeltaayehxnx.com