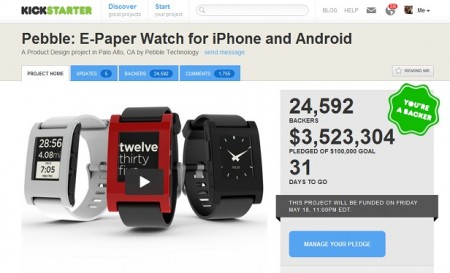 Since the Double Fine Adventure Game Kickstarter funding back in February, Kickstarter seems to have kicked into high gear for tech related projects.
The latest record holder and one that I'm personally backing, is the Pebble E-Paper Smart Watch.
In simple terms it connects to your iPhone or Android mobile and can access various features from your phone. Including GPS coordinates, ideal for tracking cycling trips or if you're out walking or jogging. It can display your text messages (Android only) or tell you who's calling when your phone rings. It can access a variety of media players on your phone to change the song so you don't have to fumble for the phone.
It uses the same screen technology as most e-readers, E-Paper, so is perfectly readable in bright daylight, but also has a back light for checking the time in the dark.
You can also switch between a number of different watch faces via an app on your phone. Finally it's also waterproof, but as yet not confirmed to what depth.
If you want one in the UK, it'll cost you $130 (About £80) including delivery for the black version, or a little more if you want other colours.
They aren't expecting to ship them until September, but the Kickstarter ends on May 18th if you want to get a preorder in.
More details here Pebble on Kickstarter